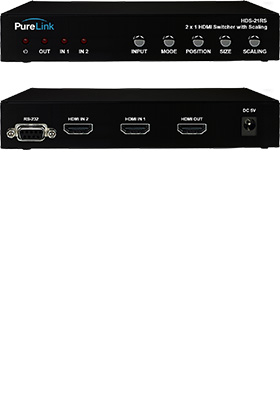 Buy this item and earn 200

Club

Points.

2-port HDMI switcher
with scaling and split-screen output
---
Looking for a better price? Write to us or call us at 1-800-636-3434 and ask for our special offer
---
HDTools™ HDS-21RS is a 2x1 HDMI switcher and scaler featuring PIP/multi-view display technology, offering flexible and simple operation via RS-232, IR, and front panel control.
HDS-21RS is a 2-HDMI input to 1-HDMI output switcher and scaler providing easy switching between two HDMI source signals to a single high definition display. HDS-21RS features auto-scaling of any video signal up to 1080p, as well as PIP (picture-in-picture) technology and side by side picture mode, offering built-in multi-view functionality.
PureLink HDS-21RS HDMI switch allows two HDMI/DVI sources (with audio) to share one display. PureLink's unique switch allows easy switching between different digital video sources with remote control unit and/or with a manual toggle button in front and/or via RS232 port. It is a perfect solution for home theater, presentation, and other multimedia applications.
Together with PureLink's Don't Blink™ Seamless Switching Technology, as well as user-friendly configuration and operation via RS-232, IR, or front panel control, the HDS-21RS delivers a simple and effective multi-input A/V switching solution.
High Quality Picture - No Signal Loss and Digital Noise Free
HDS-21RS is built to deliver the highest quality picture preserving the native resolutions of the video sources without any signal loss. At the same time, the digital noises that may affect the picture quality will be eliminated. Due to the nature of the digital signals and passing through multiple stages of connection when using distribution amplifiers, it is important to eliminate the digital noises and boost the signal strength to preserve/enhance the video signal quality.
Input Auto Switching
HDS-21RS detects input signal and automatically switch between inputs
Scaling Output with Don't blink™ Seamless Switching Technology
HDS-21RS is powered by HD upscaling and downscaling, frame rate conversion, smooth motion performance, crisp imaging, as well as auto-scaling for seamless switching.
Multi-View Output
HDS-21RS features multi-view output function enabling to show two input images to a single display, a perfect solution for sharing two information in one screen.
• Picture-in-picture
• Side-by-side
3 Ways to Control
• Front panel buttons
• RS232C
• IR
Compact and Practical Design
HDS-21/41R has all of the HDMI ports, power supply jack and RS232 port in the back of the unit allowing it be mounted on any racks or with any other components. In the front, there will be a remote control sensor, selector switch, and function buttons for easy control of the unit.
Features and Benefits
• Switch easily between any two HDMI sources
• Don't Blink™ Seamless Switching Technology with Auto-scaling
• Multi-viewer with PIP (picture in picture) display technology
• Device selection via front panel buttons, IR remote control, and RS- 232
• HDCP compliant
Package Contents
• HDS-21RS Unit
• DC 5V 1A Power supply adapter
• Owner's Manual
• Remote controller