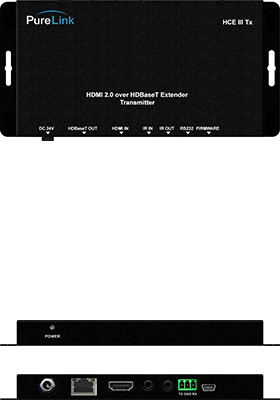 Buy this item and earn 600

Club

Points.

HDMI over HDBaseT extender, 130 feet @ 4K; 230 feet @ 1080p
supporting 4K @ 60Hz, HDR, HDMI 2.0, HDCP 2.2, with RS-232 & infrared control, and bi-directional PoE

---
Looking for a better price? Write to us or call us at 1-800-636-3434 and ask for our special offer
---
HCE III Tx/Rx is a premium HDMI 2.0 HDBaseT™ extension system for Ultra-HD/4K and HDR formats. HCE III Tx/Rx supports 4K @ 60Hz with 4:4:4 chroma sampling, as well as HDMI data rates up to 18 Gbps with HDCP 2.2 compliance.
PureLink HCE III HDMI 2.0 Ultra-HD/4K HDR HDBaseT extender with IR, RS-232 control and bidirectional PoE. It is a transmitter and receiver set for long distance extension of HDMI video and embedded audio, with bi-directional control signal (IR and RS232) over single CAT-5/6/7- type cable.
HCE III Tx/Rx HDBaseT™ extension system offers full HDMI 2.0 compliance supporting HDR (High Dynamic Range) and 4K @ 60Hz with 4:4:4 chroma sampling. Featuring PureLink's proprietary Précis codec, a light compression technology, HCE III can transport Ultra-HD/4K, multi-channel audio, and High Dynamic Range (10 bits support) content over a single CATx cable.
HCE III provides HDMI extension up to 130 feet (40 meters) at Ultra-HD/4K and up to 230 feet (70 meters) at 1080p over category cable with embedded multi-channel audio, CEC pass-through, bi-directional RS-232 and IR control, Ethernet, and PoE – all with zero loss and zero noise.
HCE III Tx/Rx also supports Dolby TrueHD, Dolby Digital Plus and DTS-HD Master Audio plus LCPM (up to 192 kHz).
Additionally, the low profile "slim box" enclosure design make the HCE III ideal for limited space installation environments, such as behind flat panel displays and video walls.
Features and Benefits
• HDMI 2.0 Ultra-HD/4K 60Hz 4:4:4 color format support
• High Dynamic Range (HDR) 10 bits support
• Extends 1080p signal up to 230 feet (70m) and Ultra-HD/4K signal up to 130 feet (40m)
• HDCP 2.2 compliant
• High bandwidth up to 18 Gbps
• BT2020 color representation
• Bi-directional Power over Ethernet (PoE): Only one side needs to be locally powered [transmitter can power receiver via PoE or receiver can power Transmitter via PoE
• IR, RS-232 bi-directional control extension and Ethernet extension
• CEC pass-through
• Zero loss and zero noise delivery of digital high definition video and audio signal via Précis codec
• Noise cancellation and error correction logic enhances HDMI video and audio signal
• Supports Dolby TrueHD, Dolby Digital Plus and DTS-HD Master Audio plus LPCM (up to 192kHz)
• DVI and DisplayPort support via HDMI ports with adapters (sold separately)
• Locking power supply
• Low profile design for a limited space environment such as behind a flat panel display
• CEC pass-through
Package Includes
1x HCE III transmitter module
1x HCE III receiver module
1x Power adapter
2x IR blaster
2x IR receiver
1x User manual