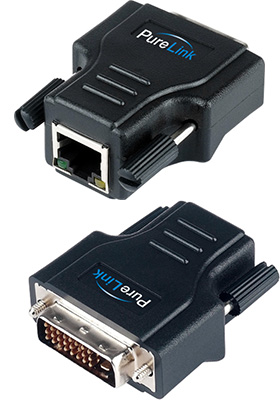 Buy this item and earn 140

Club

Points.
DVI over HDBaseT extension system
---
Looking for a better price? Write to us or call us at 1-800-636-3434 and ask for our special offer
---
PureLink DCE II is a transmitter and receiver set for long distance extension of DVI video signal over single CAT-5/6/7- type cable. It is designed on PureLink's proprietary CATx extension technology which allows signal extension up to 165 feet (50m) at 1920x1200 @ 60Hz or 1080p.
A compact and low profile enclosure makes DCE II ideal for extending DVI video to limited space environment such as behind a flat-panel display.
DCE II Tx/Rx provides lossless DVI video signal extension over a single CATx cable at distances up to 220 feet, combining simple set-up with reliable data transmission.
DCE II Tx/Rx DVI over CATx extension system provides reliable transmission and extension of Full-HD video from a DVI source using a single CATx cable. With support for resolutions up to 1920x1200 at distances of 165 feet and 1024x768 at distances of 220 feet.
Along with embedded EDID and device recognition, DCE II Tx/Rx offers a convenient video extension solution ideal for any small-scale, point-to-point presentation or digital signage application.
Features and Benefits
• DVI extension up to 165 feet (50m) at 1920x1200 or 1080p; 220 feet at 1024x768 using a single CATx cable
• Zero loss AND zero noise delivery of digital high definition video and audio signal using UTP connection, DCE II delivers HD signals over CAT-5/6/7-type cables without loss or digital interference maintaining the clarity and colors. Noise cancellation and error correction logic enhances DVI video signal over long distance
• Compact and Robust enclosure design allows for discreet installation behind a flat-panel display
• Uncompressed high definition video up 1920x1200 @ 60Hz and 1080p @ 60Hz
• Video Bandwidth – 1.65 Gbps
• No external power required – active receiver draws power from the DVI source - no external power required (If transmitter receives 5V from the source device, you do not need external power)
• Built-in micro USB port on the transmitter for external power just in case DVI source does not provide enough power (PSU is not included)
• LED signal indicator
• Embedded EDID for lossless signal transmission
• DCE II does not support HDCP
Package Includes
1x DCE II Transmitter Module
1x DCE II Receiver Module
1x User Manual