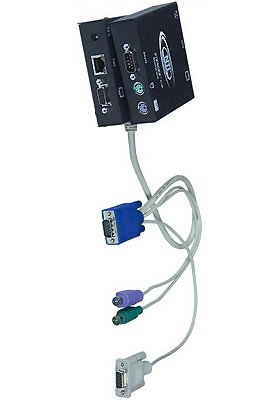 Buy this item and earn 449

Club

Points.
ST-C5KVMRS-600: PS/2 KVM + RS232 extender via CAT-5
extends control up to 600 feet from a PC or an NTI switch with no loss of signal
---
XTENDEX® KVM extender provides local and remote KVM (PS/2 keyboard, PS/2 mouse and VGA monitor) access to a PC or a KVM switch up to 600 feet using CAT5/5e/6 UTP cable.
XTENDEX® KVM extender improved features and options include local access, and RS232 for both the local and remote user.
XTENDEX® KVM extender is ideal for situations where a control station is located in an unsecured area or where equipment damage can occur, such as shop floors and loading docks.
Each KVM extender consists of a local unit connected to a server or the outputs of a KVM switch (with connections for local console access), and a remote unit connected to a keyboard, monitor and mouse (or the inputs of a KVM switch). The local and remote units are connected via CAT5/5e/6 UTP cable.
Features and Benefits
• Sharpest and clearest VGA quality over CAT-5 of any manufacturer.
• Supports two users: one local and one remote.
• Local unit provides local KVM access.
• Supports resolutions to 1920 x 1440.
• Allows local and remote access to network servers.
• Built-in surge protection.
• Optional external surge protection available.
• Optional local unit supporting two remote users available – extend two remote units up to 600 feet.
• Keep-alive keboard/mouse emulation for flawless operation.
• Use in-house CAT-5 wiring to locate a keyboard, monitor and mouse remotely.
• Optional VESA mounting bracket is available for mounting the remote unit to the back of a flat panel monitor.