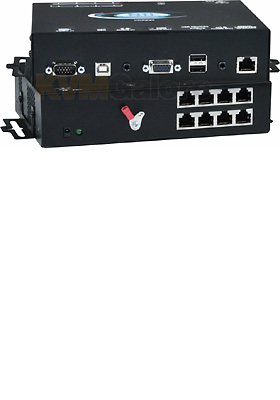 Buy this item and earn 729

Club

Points.
VOPEX-C5USBVA-8: VGA/USB KVM splitter/extender
1,000 feet over CAT-5, with stereo audio, allows up to eight (8) users to control one USB computer located 1,000 feet away
---
Note: Remote units are purchased separately
VOPEX® VGA USB KVM Splitter/Extender allows up to eight remote users (8 USB keyboards, mice, and VGA monitors) to access one USB computer (PC, Sun, Mac) located up to 1,000 feet away using CAT-5/5e/6 cable.
Audio can be broadcasted to self-powered stereo speakers at the local unit and each remote location.
VOPEX VGA USB KVM Splitter/Extender system has two components:
• VOPEX-C5USBVA-x broadcast unit, which connects to a computer and provides local keyboard, monitor and mouse connections, and
• XTENDEX® remote unit (ST-C5USBV(U/A/UA)-R-1000S, purchased separately) for each remote monitor, keyboard, and mouse.
The units are interconnected by CAT-5/5e/6 cable.
Features and Benefits
• Industry-leading ultra-high resolutions up to 2048x1536.
• Compatible with USB computers (PC, Sun, Mac).
• Access one computer from multiple locations.
• Provides local KVM access.
• The local USB ports can also be used to connect printers, scanners, security cameras, etc.
• Multiple users can enter data into the same program.
• Easily expandable. Add remote units as you add users.
• Supports DDC emulation and mixing.
• DDC mixing provides a table of resolutions that are common to each connected monitor).
• Compliant with USB 2.0 (low/full speed) standards.
• Automatically adjust video quality and color skew for crystal clear video with longer cables.
• Supports Plug-n-Play specifications.
• Built-in surge protection.
• High quality, rugged steel construction with durable powder coat finish.
• Flash upgradeable.
• Warranty: Two years.