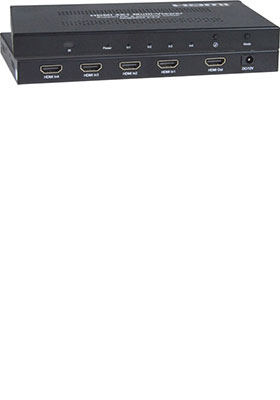 Buy this item and earn 509

Club

Points.
SPLITMUX-4K6GB-4LC: Display real-time video from four HDMI sources simultaneously on a single display
supporting 4K @ 30Hz resolution
---
• Supportd resolutions up to 4K Ultra-HD @ 30Hz
• Quad, dual, picture-in-picture and full screen modes
SPLITMUX® low-cost 4K HDMI quad-screen multiviewer allows 4K Ultra-HD @ 30Hz video from four different sources to be simultaneously displayed on a single HDMI monitor in real time. It is capable of displaying the video signals in quad, dual, PiP, or full screen mode.
• Quad, dual, picture in picture, and full screen display modes
• Supports Ultra-HD resolutions up to 3840x2160 @ 30Hz YUV 4:4:4, and HDTV resolutions to 1080p @ 60Hz
• Accepts HDCP 1.4/2.2 signals
• Seamlessly switch between the four sources
• Switch audio independently of video from active HDMI video sources (video sources turned on and being displayed) e.g. source 3 and source 4 video are active while only source 3 audio is active)
• Control the multiviewer through front panel buttons or IR remote
• Mounting brackets included for easy surface/wall mounting
HDMI Features Supported
• HDMI 1.4
• Up to 36-bit Deep Color
• RGB, YCbCr 4:4:4, YCbCr 4:2:2
• Dolby, LPCM, DTS
• Bandwidth up to 6.75 Gbps
Display Modes
Quad Mode
• In quad mode, the screen is split into four fields of equal size each displaying the entire contents of four different video sources
Full Screen Mode
• In full screen mode, one of the four video sources is displayed in full screen size and maximum resolution
Picture in Picture (PIP) Mode
• In PiP mode, the full screen display of one of the four video sources is accompanied by one or three small images (thumbnails) of the three other video sources allowing simultaneous monitoring
• If there is no video source connected to the thumbnail, its screen will remain black
Dual Mode
• In dual mode, the screen is split into two fields of equal size displaying the entire contents of two different video sources side-by-side
Control Methods
Front Panel Interface
• Use the front panel button to locally change display mode
Infrared Remote Control
• Use to change ports, select a display mode, change resolutions and switch/mute audio
Package Includes
• SPLITMUX HDMI Quad Screen Splitter/Multiviewer
• 12VDC AC Adapter
• Remote Controller
• URL Slip with path to this manual
• Mounting ears (1 pair)
• Cables not included
Required Cables (per port)
1x HDMI, male-male