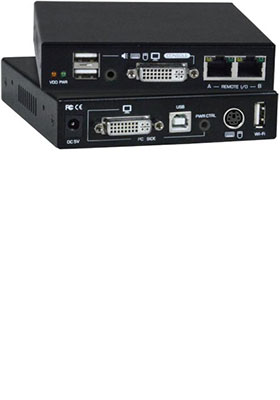 Buy this item and earn 659

Club

Points.
INTERMUX-KVMDUPIP: Remote server management
enables remote access to a DVI-USB-PS/2 computer or server over the Internet in a zero-U unit
---
INTERMUX™ DVI USB KVM on IP™ device is used to control one computer remotely via the Internet using a standard browser.
Securely gain BIOS level access to systems for maintenance, support, or failure recovery over the Internet.
Communication is secure and can be used in conjunction with a KVM switch for multipleserver access.
Features and Benefits
• Supports digital DVI video resolutions up to 2048x1152 (QWXGA), and analog VGA resolutions up to 1920x1200 (WUXGA).
• Compatible with USB or PS/2 computers.
• Remote KVM access over an IP network or over a modem link.
• Access systems during boot up, BIOS, and frozen OS conditions.
• Simultaneous access for multiple users.
• Manage servers around the world.
• Provides local KVM access.
• Simultaneous access from multiple users, no user limitation.
• Cost effective Zero-U design - KVM control "at the rack" or remotely over IP.
• Supports virtual media – deliver patches/upgrades as if on-site; remote and local file transfer.
• Built-in 2-port Ethernet hub.
• Use the included Java-based so footware to manage an unlimited number of INTERMUX-KVMDUPIP devices.
• Windows, Java, and Android viewers for cross-platform compatibility.
• Supports secure access via 1024-bit PKI authentication, 256-bit SSL data encryption, LDAP, RADIUS, and Active Directory authentication.
• Optimize the video compression according to bandwidth availability.
• Connect to a wireless network using a WiFi dongle (not included).
Package Includes
1x INTERMUX-KVMDUPIP
1x power supply
1x 6 foot (1.8 meter) dual-link DVI male to male cable
1x 4 foot (1.2 meter) USB Type-A male to Type-B male cable
1x 4 foot (1.2 meter) PS/2 1x2 splitter cable with male 6-pin miniDIN connectors.
2x passive VGA female to DVI male adapters
1x User manual