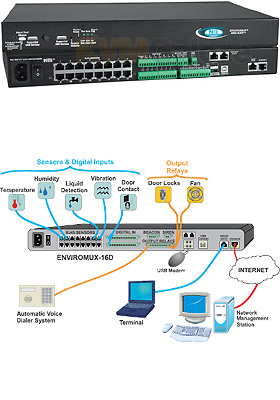 Large-enterprise environment monitoring systems
for monitoring and managing environmental conditions over IP, providing early warnings before critical events turn into disaster

---
Highlights
• 16 external configurable sensors, 8 digital inputs, 4 output relays
• Configure Smart Alerts for different event combinations
• User-programmable IP camera snapshots
• Linux inside
• Multi-language support – English, German, Indonesian, and Japanese
• Connect to an Ethernet or fiber network
• Available with optional dual power for connection to two separate power sources
• Available with optional 48VDC or 24VDC power
Compare ENVIROMUX® Environment Monitoring Systems.
ENVIROMUX® enterprise environment monitoring systems monitor critical environmental conditions such as temperature, humidity, liquid water presence, power, intrusion, and smoke.
When a sensor goes out of range of a configurable threshold, the system will notify you via email, LEDs, alarm beacon, siren, web page, network management (SNMP), voice phone calls (via Automatic Voice Dialer System), and SMS messages (via external USB 3G modem).
ENVIROMUX-16D support 16 external configurable sensors, 8 digital input sensors and 4 output relays for control of external devices.
The systems also include three internal sensors: temperature, humidity and power.
ENVIROMUX-16D feature 4 USB ports for USB modem, USB flash drive, or USB LCD screen.
Linux inside.