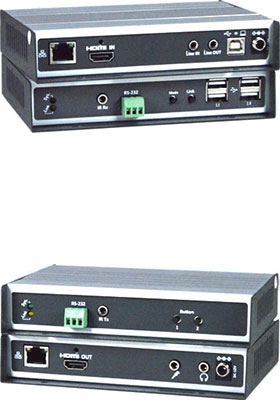 Buy this item and earn 523

Club

Points.
ST-IPUSB4K-L-VW: Extend (or create a matrix switching system) 4K HDMI video/audio, USB keyboard/mouse/peripherals
400 feet over CATx point-to-point; 1000 feet using Gigabit Ethernet, with video-wall support up to 8x8 (64 screens)
---
Note: Remote units purchased separately
• Supports point-to-point and point-to-many connections
• 4 USB connectors for keyboard, mouse, flashdrive, HDD, or touchscreen display
• Supports video wall installations from 1x2 to 8x8 screens
XTENDEX® 4K HDMI USB KVM over IP Extender provides remote KVM (USB keyboard/ mouse, and 4K HDMI video/audio) access to a USB computer up to 400 feet (122 meters) point-to-point using a single CAT-5e/6 cable; up to 1000 feet over a Gigabit network.
The extender consists of a Local unit that connects to a computer and a Remote unit that connects to an HDMI monitor, 3.5mm stereo audio speakers and microphone, and up to four USB devices (keyboard, mouse, flashdrive, HDD, or touchscreen display).
The Local and Remote units can be connected together for a point-to-point connection via CAT-5e/6 cable or a point-to-many connection via a Gigabit network switch. Support for multiple Local units (transmitters) requires a managed Gigabit Ethernet network switch.
Features and Benefits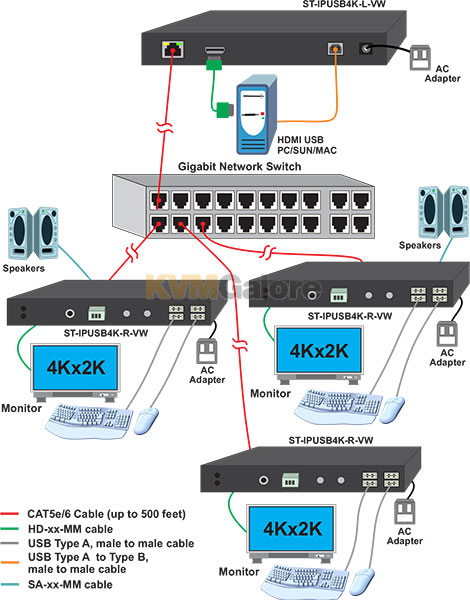 • Supports Ultra-HD 4K resolution up to 3840x2160 (30Hz), 2K resolution 2048x1080, HDTV resolutions to 1080p, and computer resolutions to 1920x1200
• Extend 4K up to 400 feet in a point-to-point connection
• Extend 4K up to 1,000 feet in a point-to-point or point-to-many connection via a Gigabit network switch
• The max length between the switch and the local/remote unit is 500 feet
• The max length between the switch and the local/remote unit is 500 feet
• Supports USB 2.0 devices
• Keyboard and mouse are hot-pluggable
• Connect a mouse, keyboard, flashdrive, HDD or touchscreen display
• Supports video wall installations from 1x2 to 8x8 screens
• Displays can be rotated 90, 180 and 270°
• Plug-and-Play installation allows receivers to find the transmitter automatically on the same network (network configuration may be required for managed network switch)
• Full infrared remote (IR) control of HDMI source from remote HDTV using existing source remote control
• Support for multiple transmitters requires a managed Gigabit network switch with VLAN/IGMP support (standard LAN switches can only support one transmitter)
• Each VLAN acts as a separate HDMI over IP Channel on the network
• When using multiple remote units, only one unit can have USB control over the source at any time
• Manage transmitter/receiver connections and video wall configuration with built-in software
• Supports 2-way RS232 commands (control software on a PC, or other automated control system hardware such as Control4 or Crestron) to control devices attached to the extender using RS232
• Customizable EDID table on local unit
• HDCP compliant
• Supports the DDC2B protocol
• Easily expandable - add receivers as you add control stations
• Integrated mounting brackets for easy surface/wall mounting
• Cables to connect to the Local unit are included