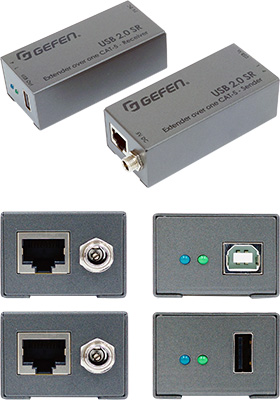 Buy this item and earn 242

Club

Points.
EXT-USB2.0-SR: Extend USB 2.0 over CAT-5
up to 165 feet (50 m) over a single CAT-5 cable
---
Gefen's EXT-USB2.0-SR extends high-speed USB devices over a single CAT-5e cable, up to 165 feet (50 meters).
It works with all major operating systems -- Windows, macOS and Linux. No software drivers are required.
Sender and Receiver units install in minutes without any configuration, and support USB versions 2.0 and 1.1 - essential for high-performance applications such as digital imaging and interactive gaming.
The full-size Type-A USB connector on the Receiver unit can supply up to 2 Amps of current at 5V, ensuring sufficient power for practically any USB device.
Sender and Receiver are compact in size, easy to install, and can be hidden away. Their sturdy metal enclosures ensure best possible performance by providing insulation against electromagnetic interference from other devices nearby.
Gefen USB 2.0 SR Extender over One CAT-5 is ideal for remotely accessing laser printers, scanners, external hard drives, optical disc burners, flash drives, and standard resolution web cams.
A powered USB hub may be connected to the USB 2.0 SR Receiver to allow for the connection of additional USB devices.
Applications such as remote desktop (keyboard/mouse/touchscreen), security, industrial control, digital signage control, and scientific data acquisition are all made possible thanks to EXT-USB2.0-SR's universal implementation of USB standards.
Features and Benefits
• Extends USB 2.0 peripherals up to 165 feet (50 m) away from a computer
• Supports USB 1.1 and 2.0
• Uses industry-standard CAT-5e or better cable
• Supports all major operating systems -- Windows, macOS and Linux
• True plug-and-play, 100% hardware solution with no drivers required
• Can support the full 480 Mbps speed of USB 2.0
• Receiver supports a powered USB connection up to 2A at 5V
• Sturdy metal construction of the enclosures help provide immunity against Electro-Magnetic Interference (EMI) and radiated noise (RFI)
• Compact enclosures are easy to install and can be hidden away
Package Includes
1x USB 2.0 SR Extender - Sender Unit
1x USB 2.0 SR Extender - Receiver Unit
1x 6 foot USB cable (A-B)
2x 5V DC locking power supplies (EXT-PS526AIP-LP-6)
1x Quick-start guide
Note: Using a USB hub at the output of the EXT-USB2.0-SR would reduce the extension range to approximately 132 feet (40 meters). The exact range reduction would depend on the USB hub design. Some hubs may perform better than others.