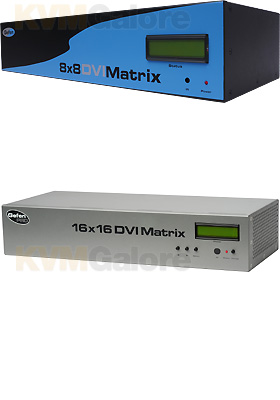 4 or 16 DVI sources to 4 or 16 DVI displays - crosspoint matrix switching
Now you can easily combine up to sixteen cross-platform computers and sixteen digital displays without networking.
The matrix switchers provide a simple, reliable and highly effective method of routing multiple computer workstations. Each computer is capable of displaying video on any one of the 4, 8, 16 or 32 monitors.
There are 4 methods of controlling the matrix switchers - by using the front panel buttons, the included IR remote, a built-in RS-232 interface, and IP control over a local area network.