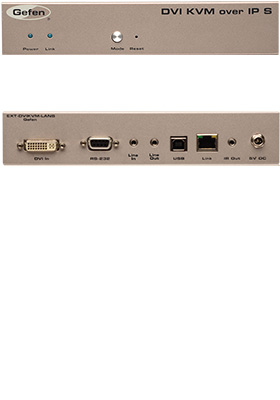 Buy this item and earn 346

Club

Points.
EXT-DVIKVM-LANTX: Extend and distribute DVI, USB, RS-232, infrared (IR) and 2-way audio over a Gigabit LAN
for a matrix of multiple users accessing and controlling up to sixteen (16) HD KVM sources
---
Note: Receiver units are purchased separately
DVI KVM over IP extends DVI, USB, 2-way analog audio, RS-232, and IR, over a Gigabit Local Area Network.
Resolutions up to 1080p Full HD and 1920 x 1200 (WUXGA) are supported. HDMI digital audio is also supported when using HDMI sources and displays with HDMI to DVI adaptors.
The Sender and Receiver units can be automatically or manually configured to unique IP addresses to allow the connection of multiple Senders and Receivers to the same network.
Multiple Receiver units can simultaneously connect to any Sender unit within the network to create a virtual crosspoint matrix of up to 16 Senders and multiple Receivers up to a theoretical limit of just over 65,000 units, depending on the network bandwidth and number of ports of the network switch.
Each Receiver unit has a built in Ethernet switch and two additional RJ-45 Ethernet ports to allow for the connection of computers and other IP-enabled devices.
USB 2.0 data rates up to 480 Mbps are supported in addition to backward-compatibility with USB 1.1.
Each Receiver unit allows the connection of two USB devices with up to 500mA current draw per port, providing access to keyboard, mouse, printers, scanners and cameras.
Bi-directional analog audio capability allows audio to be transported between the Sender and the Receiver units. Built-in mic pre-amp on the Receiver unit ensures compatibility with a variety of microphones.
Infrared (IR) commands from the Receiver side can be extended to sources located by any of the Senders.
RS-232 serial control can also be extended between each Sender and the Receivers.
Built in web server interface makes set up and configuration simple and intuitive.
DVI KVM over IP is perfect for large scale remote workstation access, and for digital signage applications.
How It Works
If you are connecting multiple Sender units, use the 16-position selector to assign a unique numerical ID to each one.
Use the included DVI cable to connect a computer or other DVI source to the Sender's DVI input. Use the included USB and RS-232 cables to connect your computer's USB and RS-232 interfaces to the Sender unit. Connect audio Line In and audio Line Out as needed to the Sender. Connect a Gefen IR emitter to the Sender and attach it to the IR sensor lens of the source.
Connect the DVI output of the Receiver to your Hi-Def display. Connect your USB devices, RS-232 devices, microphone, and headphones or amplified speakers to the Receiver unit. If the Receiver is not installed in the line-of-sight of the end-user, and IR commands will need to be sent to the source, connect an EXT-RMT-EXTIRC or EXT-RMT-EXTIRN extender module to the Receiver.
Connect the Sender and Receiver units to each other directly or through a Gigabit Ethernet switch, using CAT-5e or better cables. Each cable run can be up to 330 feet (100 meters) in length. If the Sender is connected to your LAN, you can use the two additional RJ-45 ports on the Receiver to connect computers and other IP enabled devices.
Connect the included 5V power supplies to the Sender and Receiver units and to available electrical outlets. Power on all associated equipment.
Use the Mode button on the Sender to optimize the picture for sharper still images or smoother video motion. Press the Switch button on the Receiver to toggle between the different Senders connected to the network.
Note: A Gigabit switch is required. The Gigabit switch must support 8k jumbo frame packets. If your LAN is not dedicated to only DVI KVM over IP products, then a managed switch is highly recommended.
Features and Benefits
• Extends DVI, USB, RS-232, bi-directional stereo analog audio and IR over IP, using a Gigabit Local Area Network
• Supports resolutions up to 1080p Full HD and 1920 x 1200 (WUXGA)
• USB 2.0 data rates up to 480 Mbps in addition to backward-compatibility with USB 1.1
• Supports up to 16 Senders
• Supports just over 65,000 Receivers, depending on the network bandwidth and number
• Three-port Gigabit Ethernet switch built into the Receiver unit
• Switch button on Receiver unit allows selection of multiple Senders
• Mode button on Sender for sharpness or motion optimization of image
• Field-upgradable firmware via web server interface
• Locking power supply connectors
• 1U tall, half-rack width enclosures are rack-mountable using EXT-RACK-1U
• Surface mounting brackets included
Package Includes
1x DVI KVM over IP - Sender (EXT-DVIKVM-LANS)
1x 6 foot DVI cable (M-M) (CAB-DVIC-06MM)
1x 6 foot USB cable (A-B) (CAB-USB-6)
1x 6 foot DB-9 Cable (CAB-D9-6MF)
1x Pair, Mounting Brackets with Screws (EXT-MP-C01)
1x 5V DC Power Supplies (EXT-PS526AIP-LP)
1x Quick-Start Guide (QSG-DVIKVM-LAN)
Note: Even though this device uses DVI connectors – it will also pass integrated HDMI audio through the DVI connectors, simply by using DVI-HDMI cables (or DVI-HDMI adapters) to connect to your computers and user-consoles.