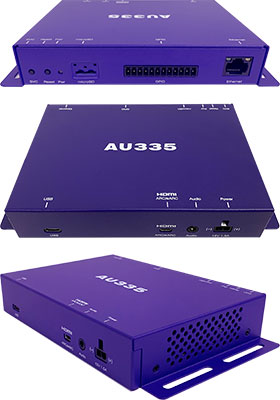 Buy this item and earn 157

Club

Points.
Digital audio player for leading edge sound experiences
BrightSign AU335 is a digital audio player delivering flawless, high bandwidth audio experiences with the latest sound technologies required to play quality, high-bandwidth audio on an ultra-affordable, cloud-based platform.
ARC/eARC and Dolby ATMOS sound technologies are now a reality for any application with this ultra low-cost platform that is easy to deploy and designed with BrightSign's signature reliability.
BrightSign AU335 can perform audio routing and simultaneously play up to 3 audio files at once with audio mixing for a wide range of applications such as background music distribution to multiple locations with voice overlays.
Its ARC/eARC support streamlines distribution of high bandwidth, 24-bit audio including Dolby Atmos™ to soundbars and AV receivers while also supporting audio routing, audio mixing, CEC commands and interactive controls to deliver sound experiences for any application.
Interactive controls through USB, GPIO, and Ethernet will engage your audience with on demand sound experiences.
AU335 can also support CEC commands and synchronize with additional BrightSign players to control lighting and other devices for unique, immersive experiences.
Features and Benefits

• Distributes quality high bandwidth, 24-bit audio including Dolby Atmos®, Dolby Audio™ and PCM audio to ARC/eARC soundbars and AV receivers
• Performs audio routing for individual audio file playback via the left or right channel*
• Supports simultaneous playback of up to 3 audio files with audio mixing*
• Controls interactive devices via USB, GPIO and Ethernet (USB host mode supports firmware updates on connected devices)
• Provides soundbar volume control and input switching via CEC commands
• Synchronizes with additional BrightSign players, lighting and other devices to create unique experiences
• Includes a free Control Cloud subscription to BSN.cloud for access to real time player health and remote player controls
• Supports presentation authoring through free BrightAuthor:connected, BrightScript, JavaScript, and node applications
• Integrates with your choice of a partner CMS solution
Retail Sound-Bar Product Demos
Create engaging retail soundbar displays to show off the latest in audio technology. AU335 has ARC and eARC support that supports playback of up to 3 audio files at once including high bandwidth, 24-bit sound to play Dolby Atmos®, Dolby Audio™ and PCM audio. Audio routing and audio mixing are also supported along with interactive controls through USB, GPIO, and Ethernet to engage your audience, while CEC command support simplifies the solution with its volume and input controls. The USB port also operates in host mode to deliver updates to connected soundbars and AV receiver devices.
Music Distribution
Distribute background audio and music to any venue using the ultra-affordable AU335 which supports stereo audio alongside ARC/eARC, Audio routing is supported which allows you to play different audio tracks simultaneously via the left and right audio channels. You can also perform audio mixing to deliver voice messages overlaid on top of background music. Extend your audio distribution by synchronizing multiple AU335 players together. The free Control Cloud subscription to BSN.cloud gives access to real time player health and controls allowing you to easily monitor players remotely.
Interactive Audio Exhibits
Deploy engaging audio museum exhibits with a plethora of interactive controls that can connect to USB, GPIOs or Ethernet. Control lighting and other devices to create unique experiences and even synchronize to other BrightSign players that are running digital signage. Presentation authoring is done via free BrightAuthor:connected, BrightScript, JavaScript, and node applications, or your choice of an integrated CMS solution.
Included in the Package
• BrightSign audio player
• International power supply with plugs for USA, UK, Australia and EU
• MicroSD slot cover with screw
• Getting Started flyer
* Requires OS 8.3.46 and BrightAuthor:connected version 1.6.44 or higher, and some advanced mixing can only be implemented via JavaScript