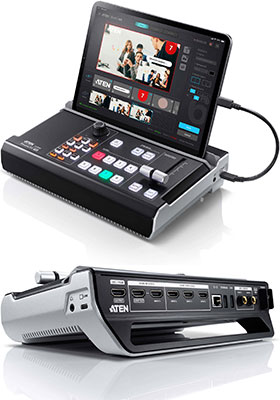 Buy this item and earn 1,068

Club

Points.
UC9040: All-in-one, 4-port multi-channel audio/video mixer
• All-in-one design to simplify streaming workflow – Integrates 1080p video capture, video recorder, video switch, streaming encoder, video converter, video splitter, and audio mixer
• Professional-quality live streaming everywhere – Compatible with every major platform and can livestream to two platforms at the same time from virtually anywhere
• Intuitive and powerful app – OnAir™Pro app preset up to 8 scenes with custom video layout, preview and full screen program monitoring, real-time editing, transitions in stunning DVE, PbP or PiP visual effects, and graphic and text overlays for a professional finish
• Compact mixer control panel – Switching and mix between multiple video and audio sources with the help of easily identifiable luminous keys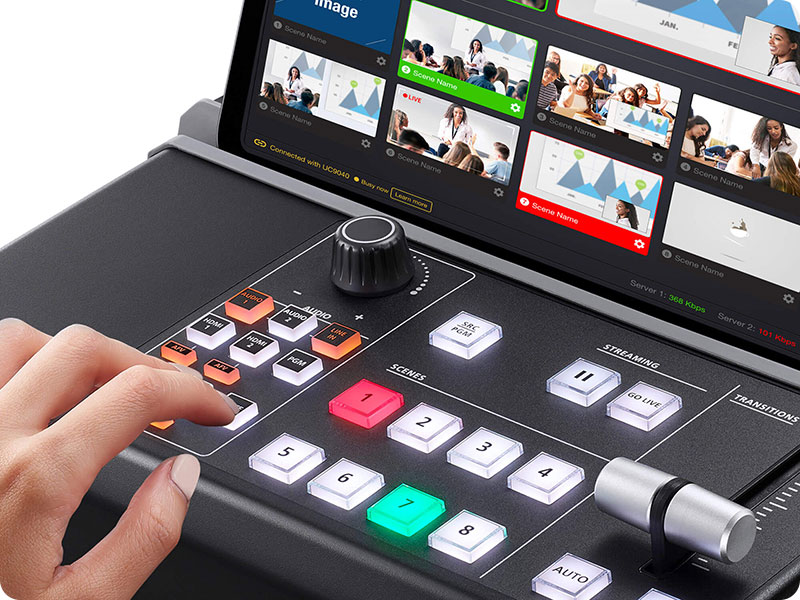 ATEN UC9040 StreamLIVE PRO is an innovative all-in-one 4-port HDMI AV mixer, packed with direct streaming, direct recording, and scene-based switching capability. It is optimized for the easiest operation and uses iPad to replace a computer and a monitor for controlling, preview monitoring, real-time editing, and arranging elements into your program mixing, thus reducing the complexity of your livestreaming setup's equipment and cabling. It is literally a live production studio in a box but with extremely powerful features.
StreamLIVE™ PRO is a portable, all-in-one, multi-channel audio/video mixer device that integrates a 1080p video capture, video recorder, video switch, stream broadcaster, video converter, 4K video splitter, and audio mixer into one compact box to eliminate the hassle of working with different AV equipment. StreamLIVE™ PRO makes HDMI video sources broadcast for higher quality live stream to CDN platforms such as YouTube Live, Facebook and Twitch.
For added convenience, StreamLIVE™ PRO provides an intuitive app – OnAir™ Pro app, making it easy to monitor, edit image layouts, and DVE, PiP or PbP settings. There are eight stunning DVE transitions including circle drop, window slice, polka dot, circle open, fade, heart, cross hatch and random square.
StreamLIVE™ PRO is PC and software-free, and with its well-designed control panel, it makes livestreaming operations smooth and effortless. You can even preview video and monitor audio levels before going live with your web broadcast!
To get started, simply connect video/audio sources, and an Ethernet with an ATEN app-installed iPad, and you are ready to roll. Whether you're capturing, editing or streaming, StreamLIVE™ PRO with its ergonomic and practical design, it is flexible enough to fit all independent live streaming broadcasting environments.
With a rich feature set, StreamLIVE™ PRO addresses the challenges that independent live streaming broadcasters encounter and provides an easy-to-use solution.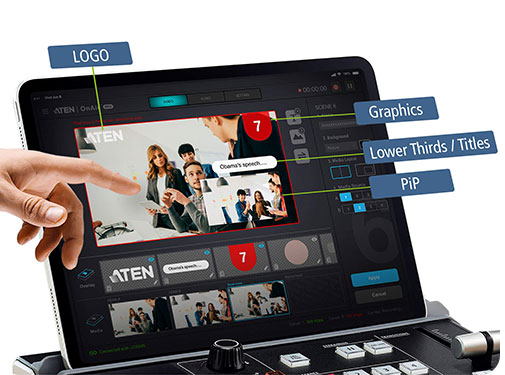 Intuitive, Pro-level Live Streaming and Recording for Anyone
StreamLIVE™ PRO is specifically designed for live video streamers who are struggling with complex streaming equipment. Everything you need for livestreaming is ready to just plug-n-play with the intuitive control interface from hardware console to touch screen on iPad. It is incredibly easy to use and works with all your existing equipment. You can set up quickly, use drag and drop to design custom layouts, and make live switching between the video sources or scenes a breeze.
Content Recording for On-demand Video
Choose to live-stream your content or record it for on VOD (video on demand) experiences! StreamLIVE™ PRO supports recording of video content and saving it directly to a connected external hard drive via USB. Record incredible videos in H.264 encoded FHD quality that are perfect for any production and post-production workflow and can work instantly with the most popular software packages. Build up a library of video on demand or use it for any content management system.
OnAir™ Pro App, Custom Layouts in Seconds
OnAir Pro app includes powerful DVE (Digital Video Effects) and a built-in graphic editor to make your iPad a perfect personal video editing suite. Freely combine, crop, and scale video to make professional PnP, PbP, or split layouts. Add transparent png images and backgrounds from your iPad's photo library, and create title overlays with professional-looking effects in seconds. Everything can be done easily and in real time for great production, even during filming.
Direct Dual-Streaming, Reach a Wider Audience
With the built-in hardware encoder and streaming server, StreamLIVE™ PRO can livestream to two platforms at the same time virtually anywhere via Ethernet connection, including Facebook, YouTube, Vimeo, Livestream, or any custom RTMP destination, all in stable high-quality full HD. It can also free up your computer for monitoring streams and engaging with audience, saving you from a costly powerful computer for encoding.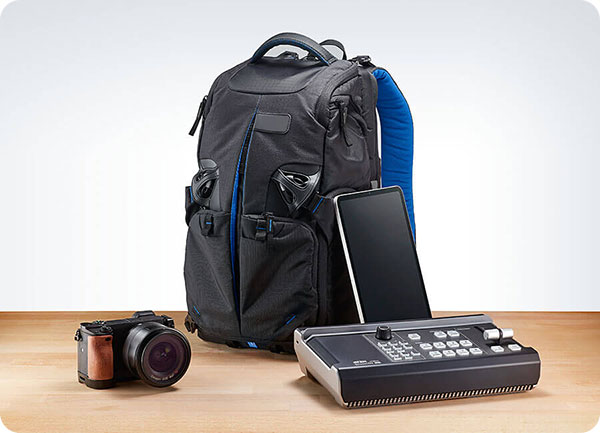 Portable, Stream Anywhere You Like
The all-in-one design greatly reduces setup time and streamlines the video production process. StreamLIVE packs heavy-duty performance and great features into just 2.3 kg, making StreamLIVE a portable video production system that you can take anywhere. Use this compact video production studio with an iPad, cameras, mic, and cables without the need for carrying a monitor and computer with you.
Features and Benefits
• 1080p Recording – Features a media recording that can be used to record a program and save recordings directly to a connected external hard drive or flash drive via USB
• DVE (Digital Video Effect) Video Transition – Including circle drop, window slice, polka dot, circle open, fade, heart, cross hatch and random square.
• Storyboard-like management – quick and smooth transitions control for professional programming during live events
• Audio Management – Multi-channel audio mixing with faders, meters, and balance for every input
• Fanless and optimized thermal air flow system for quiet operation
• Multitask designed handle-stand to enhance portability and ergonomic comfort angle
Package Contents
1x UC9040 StreamLIVE™ PRO
1x USB-C to USB-C Cable
1x USB-C to USB-A Cable
1x Power Adapter
1x User Instructions