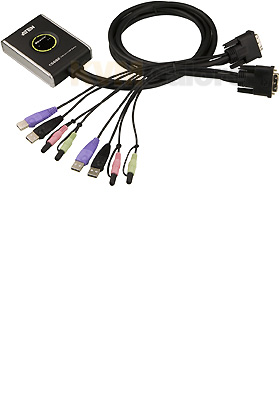 Buy this item and earn 73

Club

Points.
2-port, multi-platform, USB DVI-D KVM switch
with bonded cables, optional peripheral sharing, remote push button switching, and audio support
---
ATEN's CS682 DVI-D KVM switch represents the ultimate in cable KVMs, with innovative features such as Video DynaSync to ensure your monitor's optimum video setting when booting or switching computers, and mouse scroll wheel switching* so you can switch computes with a single click.
As an added convenience the mouse port may be used as a peripheral port to share devices such as printers, scanners, and external USB hard drivers.**
In addition to the mouse wheel switching, the CS682 has two other methods for switching computers: hotkey directly from the keyboard as well as a remote push button.
CS682 is a DVI-D KVM so it must be connected to a digital source and monitor. Its maximum resolution is 1920 x 1200 @ 60Hz and is HDCP and EDID compliant.
The unit has a three-year warranty and its firmware is upgradeable to protect your investment against obsolescence.
Features and Benefits
• One DVI video console controls two USB computers
• Fully compliant with DVI-D specifications
• Computer selection via remote port selector, hotkeys and USB mouse
• Audio-enabled – full bass response provides a rich experience for 2.1 channel sound systems
• Multiplatform support – Windows, Mac, Sun, Linux
• Compact design, built-in all-in-one cables (2 each x 4-feet)
• Maximum resolution – to 1920 x 1200 single link DVI-D
• Compatible with widescreen LCD monitors
• Video DynaSync™ – stores the console monitor's EDID (Extended Display Identification Data) to ensure optimized display
• Power on detection – if either of the computers is powered off, the CS682 will automatically switch to the other computer
• Supports most multimedia and wireless keyboard/mouse sets
• Console mouse port emulation/bypass feature supports most mouse drivers and multifunction mice
• Mac/Sun keyboard support and emulation***
• USB 2.0 mouse port can be also be used as a USB hub for USB peripheral sharing
• HDCP Compliant
• Bus powered - no power adapter needed
• Firmware upgradeable
• Warranty: 3 years
Package Content
1x CS682 2-port USB 2.0 DVI KVMP Switch
1x Remote Port Selector
1x User Manual
1x Quick Start Guide
* To use mouse wheel scrolling a scroll wheel mouse must be connected to the mouse port on the KVM
** A fully powered USB hub is recommended
*** PC key stroke combinations emulate Mac/Sun keyboards; Mac/Sun keyboards work only with their own computers