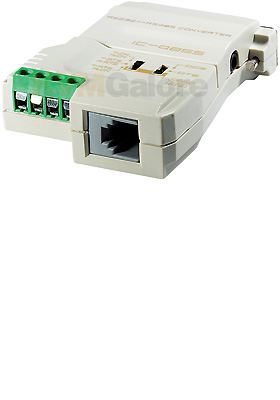 Buy this item and earn 41

Club

Points.
RS-232 to RS-485/RS-422 bidirectional converter
with point-to-point, multidrop and simplex/duplex link selectability
---
IC485S is a hardware solution to the problem of converting signals between two standards. Data transfer can take place at up to 1200 meters (4000 feet), over four or two wire cables for full or half duplex, respectively.
The converters can handle any RS-485/RS-422 device allowing it to function as a short haul modem or interface converter. Request to send (RTS) selection allows up to 32 receivers to be set up in a multidrop installation, making for a cost effective network configuration.
The IC485S is a bi-directional interface converter for RS-232 and RS-485. With the IC485 series, it provides point-to-point, multidrop and simplex operations. The IC485S also provides an extra monitoring function. Two slide switches are used to configure its operation mode, contention control, and assignment of the RS-232.
Features and Benefits
• Data transmission controlled by the RTS signal
• DCE/DTE selectable
• Point to point, multidrop and simplex/duplex link selectable
• Four wire (full duplex)/two wire (half duplex)
• Monitor configuration support
• Compact size
Package Content
1x IC485S bi-directional isolated converter
1x Power adapter
1x User manual
1x Warranty registration card