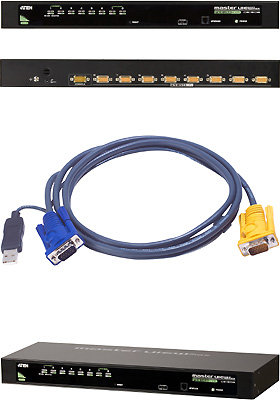 Buy this item and earn 349

Club

Points.
8-port PS/2-USB combo KVM switch
with 8 USB KVM cables
---
ATEN's CS1308, 8-port PS2/USB Combo KVM Switch, is an ideal tool for a small office or home office where up to 8 servers can easily be maintained by one administrator using a single mouse keyboard and monitor.
The CS1308 requires no special knowledge to setup or use, there is no software to install, it works with either PS/2 or USB servers, and will connect to any combination of PS/2 or USB mouse and keyboard.
Some of the unique features of the CS1308 are:
• DynaSync – Today's equipment uses Extended Display Data to automatically set the optimal video parameters of your monitor. ATEN's DynaSync ensures this information is available to each server in the installation so you don't have to readjust the video on each server you switch to.
• Auto Sensing Expansion – As you add or remove KVMs to your installation the CS1308 automatically senses the change and reconfigures the installation. There are no DIP switches to remember to change, no configuration routines to run, and no software to install.
• Expandability - Add additional KVMs to control up 64 servers.
Features and Benefits
• One USB-PS/2 console controls 8 computers
• Cascade up to 2 levels - control up to 64 computers
• Dual Interface - supports computers with PS/2 or USB keyboards and mice
• Multiplatform support - Windows, Linux, Mac, and Sun
• Supports multimedia USB keyboards for PC, Mac and Sun
• Auto PS/2 and USB interface detection
• USB or PS/2 keyboard and mouse emulation - computers boot even when the console focus is elsewhere
• Superior video quality - up to 2048 x 1536; DDC2B
• Computer selection via front panel pushbuttons, hotkeys and multilingual on-screen display (OSD) menu
• Two level password security - only authorized users view and control computers; up to four users and an administrator with a separate profile for each
• Auto Scan feature for monitoring user-selected computers
• Hot pluggable - add or remove computers without having to power down the switch
Package Content
1x CS1308 KVM Switch with Rack Mount Kit
2x 2L5201U USB KVM Cable, 3-feet
4x 2L5202U USB KVM Cable, 6-feet
2x 2L5203U USB KVM Cable, 10-feet
1x Console cable
1x Firmware Upgrade cable
1x Grounding wire
1x Foot Pad set (4 pads)
1x Power Adapter (AC Models)
1x User Manual
1x Quick Start Guide