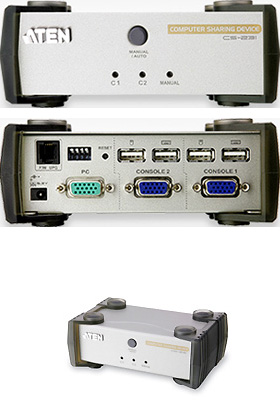 Buy this item and earn 209

Club

Points.
Two-user (2-port), single-tasking USB-VGA computer sharing device
CS231 is a powerful, micro-processor controlled computer sharing device. It is a single-tasking device that enables two users to share the use of a single computer - each from their own consoles (monitor, keyboard, and mouse).
CS231 supports USB consoles and - depending on the KVM cables being used - both PS/2 and USB computers.
Features and Benefits
• Single computer is shared by two USB consoles.
• Supports USB and PS/2 computers.
• Multiplatform Support (Windows, Mac, Unix, Linux).
• Manual or auto console selection.
• On-Screen-Display informs user when system is in use.
• No software required.
• Private mode for a privileged user.
• Screen saver function.
• Supports VGA, SVGA Multisync monitors.
• Firmware upgradable.
• Multiplatform support: Windows 2000/XP/Vista, Linux, Mac and Unix.
Package Contents
1x Computer Sharing Device
1x USB KVM Cable (6 feet, 1.8m)
1x Power Adapter
1x Firmware Upgrade Cable
1x DIP Switch Sticker
1x User Manual
1x Quick Start Guide