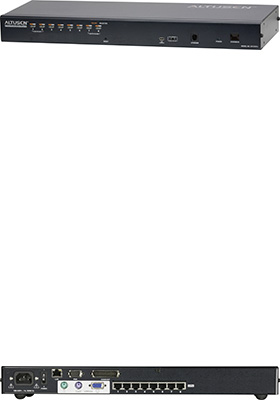 Buy this item and earn 1,163

Club

Points.
8-port, 1-user CAT-5 IP KVM switch
KH1508Ai CAT-5 high-density over the net KVM switch is an 8-port device in a 1U-high housing allowing local and remote operators to monitor and access the entire enterprise data center over the Internet using a web-based browser.
KH1508Ai features CAT-5e/6 cable to link to CPU modules attached to the servers, this arrangement has several advantages over standard KVM cabling:
• The use of CAT-5e/6 cables permit distances between server and KVM up to 160 ft with ATEN's new 7000 series modules.
• CAT-5e/6 cables are considerably lighter and easier to manipulate than traditional KVM cables
• The KVM works with any combination of PS/2, USB, Sun, and serial devices by merely connecting the applicable module.
• In addition to TCP/IP connectivity, the KH1508Ai provides KVM ports for a locally attached USB and/or PS/2 console and a Mini-USB port for a VNC Laptop console – allowing access and control from the data center, over the Net, or from a laptop's USB connection. This is a single bus unit, so although up to 32 users may be logged in simultaneously only one operator has control.
A special Message Board feature – similar to an internet chat program – lets all logged in users exchange information and communicate with each other to manage the installation cooperatively.
Other features that contribute to the switch's versatility include:
• Panel Array Mode- which allows real-time monitoring of up to servers simultaneously in a grid arrangement.
• Mouse DynaSync™ ensures remote and local mouse pointer alignment
• Adapter ID, the adapter holds the computer name assigned to the server and all user account information so there is no need to re-identify moved servers and their users permissions.
• VNC Port this mini-USB port allows a laptop to be connected via VNC for local access and control
Features and Benefits
• Dedicated USB port directly connects to a laptop for easy console operation
• High port density – RJ-45 connectors for up to 16 ports in a 1U housing
• One bus for remote KVM over IP access
• Supports PS/2, USB, Sun Legacy (13W3) and serial (RS-232) connectivity
• Local console provides PS/2 and USB keyboard and mouse support
• Supports multiplatform server environments: Windows, Mac, Sun, Linux and serial devices
• High video resolution – up to 1600 x 1200 @ 60Hz at up to 40 meters and 1280 x 1024 @ 75Hz at up to 50 meters, with the new ATEN KVM Cable Adapter KA7000 series.
• Daisy chain up to 31 additional units – control up to 256 (KH1508Ai) or 512 (KH1516Ai) computers from a single console.
• Up to 64 user accounts – up to 32 users simultaneously share the control
• End session feature – administrators can terminate running sessions
• Event logging and Windows-based Log Server support
• Local Log Event
• Firmware upgradeable
• Adapter ID – stores port information allowing administrators to relocate the servers to different ports, without having to reconfigure the adapters and switch
• Port Share Mode allows multiple users to gain access to a server simultaneously
• Integration with ALTUSEN CC2000 Management software
• Local Console, Browser, and AP GUIs offer a unified multi-language interface to minimize user training time and increase productivity
• Multiplatform client support (Windows, Mac OS X, Linux, Sun)
• Multi-browser support (IE, Mozilla, Firefox, Safari, Opera, Netscape)
• Browser-based User interface in pure Web technology allows administrators to perform administrative tasks with no need for Java to be pre-installed
• User can launch multiple Virtual Remote Desktops to control multiple connected servers from the same login session
• Full-screen or sizable and scalable Virtual Remote Desktop
• Panel Array Mode
• Device ID and attributes are stored in the adapter cables allowing you to hot-swap port connections without having to reconfigure attributes.
• Local keyboard broadcast – keyboard input can be duplicated on all the attached servers.
• Remote authentication support: RADIUS, LDAP, LDAPS, and MS Active Directory
• Advanced security features include password protection and advanced encryption technologies – 1024 bit RSA; 56 bit DES; 256 bit AES; and 128 bit SSL
• Flexible encryption design allows users to choose any combination of 56- bit DES, 168-bit 3DES 256-bit AES, 128-bit RC4, or Random for independent KB/Mouse, video, and virtual media data encryption
• Support for IP/MAC Filter
• Configurable user and group permissions for server access and control
• Video quality and video tolerance can be adjusted to optimize data transfer speed; monochrome color depth setting, threshold and noise settings for compression of the data bandwidth in low bandwidth situations
• Full screen or scalable video display
• Message Board for communication among remote users
• Mouse DynaSync™ – automatically synchronizes the local and remote mouse movements
• On-screen keyboard with multi-language support
Package Content
1x KH1508Ai
1x Power cord
1x Firmware upgrade cable
1x Rack-mount kit
4x Foot pads
1x User manual
1x Quick start guide
Cables and dongles are not included - see listing of compatible cables below