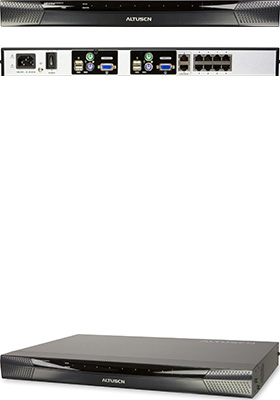 Buy this item and earn 543

Club

Points.
8-port, 2-user CAT-5 KVM switch
KH2508 CAT-5 KVM switch is a dual channel device, allowing two operators to independently and simultaneous access up 8 directly connected computers, and up a maximum of 512 servers through three level cascading.
Cascading is achieved via dedicated RJ-45 cascade ports and CAT-5e cabling. Both, first level consoles are able to access all 512 computers in the installation, on the second tier, one console can access second and third level servers, and one console on the third level can access third level servers.
Security consists of two level access (Administrator and User) password / user name protected. The Administrator can set user access on a port-by-port basis, and as many as 96 user accounts can be created.
The CAT-5 connections allow servers to be separated from the KVM by up to 130 ft. with a maximum video resolution of 1280x1024 @ 75Hz.
The KVM supports mixed environments of Windows, Mac , Linux, Unix, Novell, and OS/2 and employs keyboard emulation for special Mac and Sun keys.
Features and Benefits
• Two KVM consoles independently and simultaneously control up to 8 directly connected computers
• Cascade up to 3 levels of KH2508 or KH2516 switches to support up to 512 computers
• Superior video resolution – 1280 x 1024 @ 75 Hz up to 40 m; 1600 x 1200 @ 60 Hz up to 30 m
• Multiplatform support: PC, Mac, Sun, and serial
• Backup and restore configuration settings to an external flash drive to simplify installation for disaster recovery
• No software to install – convenient computer selection via graphical on-screen display (OSD) menus
• Supports two-level user access control (administrator and user)
• Supports up to 96 user accounts
• Configure port access rights for users on a port-by-port basis
• Diversified port operation mode enables flexible computer management – Occupy, Exclusive and Share modes
• OSD port list automatically expands when stations are added
• Port names are automatically reconfigured when the station/computer sequence is changed
• OSD screen automatically adjusts to resolution changes
• Auto Scan mode enables continuous monitoring of user-selected computers
• User activity log support
• Console conversion – any type of KVM console can control any type of computer; mixed combinations
• PS/2 & USB supported on both the KVM console and computer sides
• USB / PS/2 keyboard and mouse emulation – computers boot even when the KVM console focus is elsewhere
• Hot pluggable – add or remove components without having to power off the KVM switch
• Free lifetime firmware upgrades
• Effortlessly upgrade an entire installation – automatically upgrade all cascaded switches and adapter cables directly from the root station
• Compact design – rack mounts in only 1U of rack space
Package Content
1x KH2508 Cat 5 KVM Switch
1x Power Cord
1x Grounding Wire
1x Firmware Upgrade Cable
1x Rack Mount Kit
1x Foot Pad Set (4 pcs.)
1x User Manual
1x Quick Start Guide
Cables not included - see listing of compatible cables and dongles