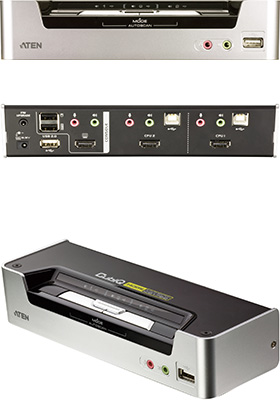 Buy this item and earn 259

Club

Points.
2-Port HDMI KVMP switch
CS1792 CubiQ HDMI USB 2.0 KVMP Switch is a revolutionary new concept in KVM switch functionality. Combining a 2-port KVM switch, a switchable 2-port USB hub, and full HDMI support, the result is a dual-purpose unit that may be used as a KVMP switch, HDMI video switch, or combination of both, allowing you to connect multiple Hi-def sources to the HDMI input of your TV or monitor.
CS1792 is fully compliant with HDMI standard 3.1a, HDCP, and Dolby True HD and DTS HD Master Audio.
When used as a KVM CS1792 allows users to switch access and control of two computers using a single keyboard, mouse and monitor. It also permits independently switching audio* and peripheral devices such as printers, or external hard drivers between the attached computers.
CS1792 provides HDCP pass through to allowing its use as an HDMI switch to expand your monitor or HiDef Television to include X box360, Blu-ray, TiVo, or most any other HDMI compliant source.
CS1792 is a snap to set up, simply connect your mouse keyboard and monitor to the console side and attach your video sources to the input side – no software to install and no configuration hassles. Audio in and audio out connections provide audio to your speakers when using DVI* to HDMI adapters.
Note: HDMI audio cannot be switched independently.
Features and Benefits
• 2-port HDMI USB 2.0 KVMP Switch
• One USB console controls two HDMI computers and two additional USB devices
• HDMI 1.3a and HDCP compliant
• Dolby True HD and DTS HD Master Audio support
• Video DynaSync – stores the console monitors EDID (Extended DisplayIdentification Data) to optimize display resolution
• Supports resolutions 480i, 480p, 720p, 1080i, and 1080p
• Supports widescreen resolutions
• Supports both HDMI and DVI –D monitors (adapter required)
• 2-port USB 2.0 hub built in
• USB 2.0 Compliant
• Computer selection via front panel pushbuttons and hotkeys
• Power on detection – if one of the computers is powered off, CS1792 will automatically switch to the next powered-on computer
• Multiplatform support – Windows 2000/XP/Vista, Linux, and Mac
• Independent switching of KVM, USB peripheral, and audio focus
• Console mouse port emulation/bypass feature supports most mousedrivers and multifunction mice
• Complete keyboard emulation for error-free booting
• Mac keyboard support and emulation
• Auto Scan Mode for monitoring all computers and HDMI devices
• Firmware Upgradeable
Package Content
• CS1792
• 2 Custom HDMI cables (6 feet)
• Power adapter
• Firmware upgrade cable
• PS/2 to USB console converter cable
• User Manual
• Quick Start Guide
Notes
1) PS/2 keyboard and mouse may used with the converter cable included in the package.
2) DVI outputs may be connected via a DVI-D to HDMI adapter, but DVI does not support audio, it will be necessary to use the audio connections on the KVM.
3) The quality of the display is affected by the quality of the display card. For best results, we recommend you purchase a high quality product.
* DVI does not support audio, so the audio ports and speakers must be used.