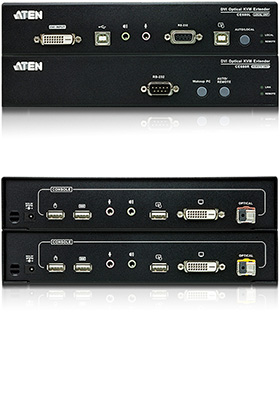 Buy this item and earn 979

Club

Points.
DVI-USB fiber-optical KVM console extender
with audio, up to 1968 feet
---
CE680 is a DVI optical KVM extender that overcomes the length restriction of standard DVI cables by using optical fiber to send high definition audio, video and control signals over long distance. It accepts audio-video stream from a local source and serializes the data to pass over a single 3.125 Gbps optical link (for resolutions up to 1920x1200 @ 60Hz, 24-bits), with picture perfect quality. It can also extend the keyboard/mouse remote control signals, as well as transfer RS-232 signals (up to 115kbps) in both directions, allowing you to connect serial devices, such as barcode scanners.
A USB port on the local and remote unit rear panels lets you connect a USB touchscreen panel device, which can access a computer connected at the local site. In addition, CE680's touchscreen support lets you take advantage of multi-point devices, such as 10-point multi-touch displays, which can be useful when dealing with highly interactive applications.
CE680 allows access to a computer system from both local and remote consoles (USB keyboard, monitor, and mouse). Because it allows access to a computer system from either the local or remote console, it is perfect for use in any type of installation where you need to place the console where it is conveniently accessible, but you want the system equipment to reside in a safe location - away from the dust and dirt of the factory floor, or the harsh environmental influence of a construction site, for example.
Furthermore, CE680 takes advantage of fiber optic cable technology for connecting the local and remote units, providing easy and quick installation and long-range extension of DVI signals. It also has a built-in 8KV/15KV ESD protection feature.
Setup is as easy as can be - simply connect the computer system box; run the fiber optic cable up to 1968 feet (600 m) to the Remote Unit; and plug the remote console into the Remote Unit.
Features and Benefits
• Allows access to a computer or KVM installation from a local / remote console
• Supports DVI-D interface and allows transmission of DVI single-link signals
• Superior video quality of up to 1920x1200 @ 60 Hz (24-bits) - get an excellent, crisp image on your screen over long distance transmissions up to 1968 feet (600 m)
• Touchscreen support - connect a generic touchscreen, including devices up to 10-point multi-touch, to accommodate highly interactive applications (no extra drivers needed)
• Dual console operation - control your system from both the local and remote USB keyboard, monitor, and mouse consoles
• Pushbutton operating mode selection - select whether to control your computer or KVM from the local console, with the press of a single button
• Easy to install - no software required - connecting cables to the devices is all it takes
• Uses one fiber optic cable to connect the local and remote units
• Uses compact, small form-factor hot-pluggable fiber optic modules
• HDCP compatible
• Supports popular wide screen formats
• Built-in 8KV/15KV ESD protection (Contact voltage 8KV; Air voltage 15KV)
• RS-232 serial port - connect to a serial terminal, or serial devices such as barcode scanners (Baud Rate 115200 bps)
• PC Wakeup support - use a pushbutton on a Remote Unit to wake a PC at the local site via RS-232
• Audio Enabled - supports stereo speakers and microphone
• Rack mountable
• Firmware upgradeable
• Hot pluggable
Package Contents
1x CE680L DVI Optical KVM Extender (Local Unit)
1x CE680R DVI Optical KVM Extender (Remote Unit)
1x Custom KVM Cable Set (6 feet, 1.8m)
1x USB Cable (6 feet, 1.8m)
2x Power Adapters
1x Mounting Kit
1x User Instructions