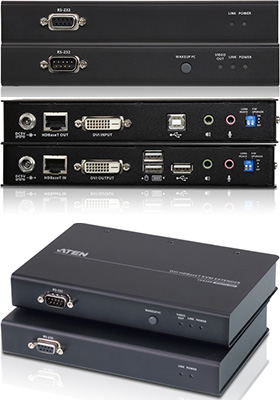 Buy this item and earn 705

Club

Points.
DVI, USB, RS-232 and audio KVM extender over CATx
using HDBaseT 2.0 technology
---
ATEN CE620 USB DVI HDBaseT™ 2.0 KVM extender integrates HDBaseT™ 2.0 technologies to provide the most reliable transmission of video, audio, USB and RS-232 signals available on the market. CE620 delivers high-quality DVI video, PCM 2-channel digital audio, USB 2.0 and RS-232 signals up to 330 feet (100 m) from the source computer using a single CAT-5e/6 cable.
With a simple cable installation supporting various signals, CE620 is ideal for applications where convenient remote access is required – in places such as transportation control centers, medical facilities, industrial warehouses and extended workstations.
Features and Benefits
• HDBaseT™ 2.0 connectivity technology
• Extends video, audio, USB 2.0 and RS-232 signals via a single CAT-5e/6 cable
• EDID buffer for smooth power-up and the highest quality display
• Enhanced bit error detection and correction to resist signal interference during high-quality video transmissions
• Long distance superior video quality
• HDBaseT™ standard mode up to 1920x1200 @ 330 feet (100 m)
• HDBaseT™ long reach mode up to 1920x1080 @ 492 feet (150 m)
• Long reach mode switch - switches between HDBaseT™ standard and long reach modes in a snap
• Integrated USB 2.0 ports - ensuring fast transmission speeds for peripherals
• Supports 2-channel PCM digital audio - ensuring highquality audio transmissions
• Supports PC wakeup function via pushbutton or hotkey
• Built-in 8KV/15KV ESD protection (contact voltage 8KV; air voltage 15KV)
Package Contents
1x CE620L USB DVI HDBaseT 2.0 KVM Extender (Local Unit)
1x CE620R USB DVI HDBaseT 2.0 KVM Extender (Remote Unit)
1x Custom DVI KVM Cable Set
2x Power Adapters
2x Mounting Kits
8x Foot Pads
1x User Instructions
Note: CE620 does not support HDCP.