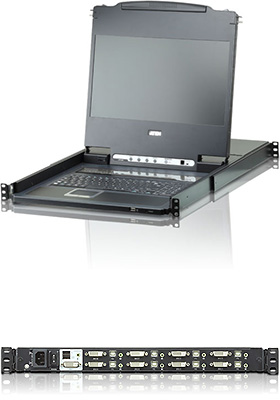 Buy this item and earn 1,677

Club

Points.
Single-rail, 8-port, Full HD (1080p) wide-screen DVI LCD KVM console/switch
with audio and external console (for 2nd user) support
---
As a complete KVM solution, CL6708MW offers an integrated 17.3" widescreen LCD panel with keyboard and mouse console, management of 8 computers from a single console (or up to 64 computers when cascaded with additional switches), YUV video format and HDCP support and additional ports for an external console (keyboard, monitor, mouse) connection.
CL6708MW single-rail 8-port DVI Full HD LCD KVM switch features an integrated 17.3" LED-backlit LCD panel allowing access to and control of up to 8 computers. As many as 8 additional CS1768 8-port KVM switches can be cascaded bringing the total number of connected computers to 64.
Additionally, CL6708MW features a compact design that allows installation in a 1U system rack and includes ports for a second KVM console (keyboard, mouse, speakers and DVI monitor) on the rear panel.
Featuring an integrated 17.3" LED-backlit LCD panel capable of full HD 1080p video – greater clarity than typical analog interfaces – CL6708MW incorporates the YUV video format for greater compatibility with high-definition signals (e.g. NVR sources). Similarly, CL6708MW is High-Bandwidth Digital Content Protection (HDCP) compatible, making it well-suited for use with content-protected media in corporate, educational, and commercial settings.
To further enhance usability, ATEN's LED illumination light is included to ensure keyboard and touchpad visibility in low-light conditions.
Setup is fast and easy - plugging cables into their appropriate ports is all that is needed. The switch supports DVI and USB connections for the external console and computers. CL6708MW also intercepts keyboard input directly, eliminating the need to configure software. Switching between computers is easily accomplished by pressing front panel pushbuttons, entering hotkeys or via a menu-driven on-screen display (OSD).
Features and Benefits
• Integrated KVM with a 17.3" widescreen DVI Full HD LCD monitor
• Single rail, sliding housing with top and bottom clearance for smooth operation in a 1U rack
• Controls eight single-link DVI computers
• Supports an external console with DVI video port
• Exclusive LED illumination light - designed by ATEN to illuminate the keyboard and touchpad to allow visibility in low-light conditions
• KVM port extendable via one-level cascade (up to 8 additional CS1768 8-port KVM switches)
• Computer selection via front panel pushbuttons, hotkeys, and multilingual on-screen display (OSD)
• Broadcast mode – allows you to send commands from the console to all computers to perform operations simultaneously
• Firmware upgradable
• Supports YUV video format for greater compatibility
• DVI monitor support – fully compliant with DVI specifi cations
• Video DynaSync™ – exclusive ATEN technology eliminates boot-up display problems and optimizes responsiveness when switching between ports (only works with digital video sources)
• HDCP-compatible for hassle-free content-protected media playback
• Superior video quality – 1920x1080 @ 60Hz; DDC2B
• Adjustable depth to fit within the rack
• Audio support for connecting speakers
• Auto Scan Mode for monitoring all computers
• Multiplatform support – Windows, Linux, Mac, Sun
• Console lock – enables the console drawer to remain securely locked away in position when not in use
Package Contents
1x CL6708MW Single Rail 8-Port DVI FHD LCD KVM Switch with Standard Rack Mount Kit
2x Custom USB DVI KVM Cable Sets (see listing below for additional available cables)
1x Power Cord
1x Firmware Upgrade Cable
1x User Instructions