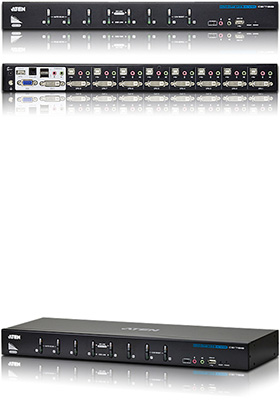 Buy this item and earn 735

Club

Points.
8-port dual-link DVI/USB KVM switch
with audio support and USB 2.0 peripheral sharing
---
CS1788 8-Port USB DVI dual-link KVM switch is a multi-purpose appliance that consolidates access and control of up to 8 computers from a single USB keyboard, USB mouse, and monitor (DVI-I or VGA) console.
It can be cascaded to three levels – allowing to control up to 512 computers – all from the original single console, making it ideal for IT applications and management.
In addition, CS1788 features multi-view functionality, which enables the use of standard USB cables to stack up to four switches for quad-viewing in multiple-monitor installations where each computer is fitted with multiple video cards. It allows you to contrast, analyse and monitor video output in convenient ways, substantially simplifying the working environment.
Furthermore, CS1788 comes with ATEN's on-screen display (OSD) function, which can access any computer connected to the installation. It also offers OSD configuration back up/restore to save/ back up the OSD settings and restore them as needed.
CS1788 provides multimedia keyboard support and is audio enabled. Two microphones can provide audio input to each of the computers, and you can listen to the audio output of each computer on two sets of speakers (on a one-at-a-time basis).
Features and Benefits
• One USB console controls eight dual-link DVI or VGA computers and two additional USB 2.0 devices
• Supports both digital (DVI) and analog (VGA) video – mixed operation possible
• Cascadable to three levels – control up to 512 computers
• Multi-view feature – stack up to four CS1788 units and display video from up to four monitors (dual view / triple view / quad view)
• 2-port USB 2.0 hub built in
• Fully compliant with the USB 2.0 specification
• Computer selection via front panel pushbuttons, hotkeys, and multilingual on-screen display (OSD)
• OSD Backup/Restore feature – enables the administrator to back up the switch's configuration and user profile information
• Two-level (Administrator/User) password authorization for enhanced security protection
• Multilingual OSD supports English, German, Japanese, Traditional Chinese, Simplified Chinese, Spanish, Russian, and French
• Audio enabled – full bass response provides a rich experience for 2.1 channel surround sound Systems
• Console audio ports on front panel for easy access
• Multiplatform support – Windows, Linux, Mac, Sun
• Supports widescreen resolutions
• Superior video quality – 2560x1600 (dual-link DVI); 2048x1536 (VGA); DDC2B
• Independent switching of KVM and USB focus
• DVI digital and analog monitor support – fully compliant with the DVI specifications
• HDCP compatible
• Video DynaSync™ – exclusive ATEN technology eliminates boot-up display problems and optimizes resolution when switching between ports
• Console mouse port emulation/bypass feature supports most mouse drivers and multifunction mice
• Complete keyboard emulation for error-free booting
• Mac/Sun keyboard support and emulation*
• Multilingual keyboard mapping – supports English (US), English (UK), French, German, Japanese, Korean, Traditional Chinese, and Spanish
• Auto Scan Mode for monitoring all computers
• Broadcast mode – allows you to send commands from the console to all computers to perform operations simultaneously
• Firmware upgradable
Package Content
1x CS1788 8-port USB DVI KVM switch with rack mounting kit
2x Custom USB DVI-D dual-link KVM cable sets - see listing of compatible cables below
1x Firmware upgrade cable
1x Power adapter
4x Foot pads
1x User instructions
* PC keyboard combinations emulate Mac/Sun keyboards; Mac/Sun keyboard work only with their own computers