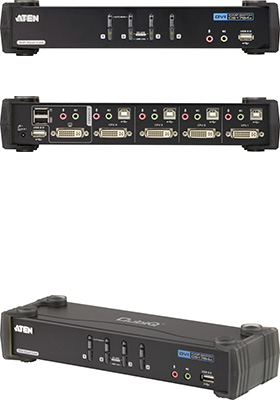 Buy this item and earn 356

Club

Points.
4-port dual-link DVI KVMP switch
with USB 2.0 and 2.1 audio support
---
ATEN's CS1784ACubiq dual link DVI KVMP switch marks a revolutionary step in KVM functionality by combining ATEN's Display Technology with the wide screen graphics resolution of today's 30 inch monitors, supporting resolution up to 2560x1600.
This unique KVM switch can increase efficiency and save equipment cost for applications, where high resolution monitors are required: CAD (computer aided design) and CAM (Computer Aided Manufacturing); Desktop publishing and Graphic design; video editing; and gaming, where high video resolution is demanded.
Good news for gamers , CS1784A supports gaming keyboards with LCD panels, programmable keys, and special key combinations.
In keeping with the proliferation of high speed devices, CS1784A provides two USB 2.0 peripheral ports for independently sharing USB devices between your computers. A powered USB hub may be attached to the peripheral ports for added functionality.
CS1784A is equipped with ATEN's Video DynaSync, it remembers your monitor's ideal resolution and refresh rate (EDID), making it possible to boot all your computers simultaneously, switch back and forth between computers, and still maintain the ideal video settings of the monitor.
CS1784A supports full bass 2.1 computer speakers and independent KVM, audio, and peripheral switching
NOTE: The KVM switch will support both DVI-I and DVI-D, however the supplied video cables are DVI-D. They will not work with VGA to DVI adapters. Third party DVI-I cables or a VGA to DVI adapter must be used.
Features and Benefits
• Resloution: 2560x1600 @ 60Hz (Dual Link); 1920x1200 @ 60Hz (Single Link)
• Built-in High-Speed 2-port USB 2.0 Hub
• Supports high end gaming keyboards and mice
• Independent (Asynchronous) switching of KVM and peripheral USB/Audio ports
• Support high quality 2.1 channel surround sound system
• Support widescreen resolutions
• Sources selection via front panel pushbuttons, hotkeys, and Mouse
• Multiplatform support: Windows, Linux, Mac, and Sun
• Video DynaSync - Exclusive technology that eliminate boot-up display problem and optimizes resolution when switching between ports
• Support gaming/multimedia keyboards
• Sun/Mac keyboard support and emulation
• Auto Scan Mode for monitoring all computers
• Firmware upgradeable
Package Content
1x CS1784A USB DVI Dual Link KVMP Switch
4x DVI-D/USB KVM cables
1x Power Adapter
1x User Manual
1x Quick Start Guide