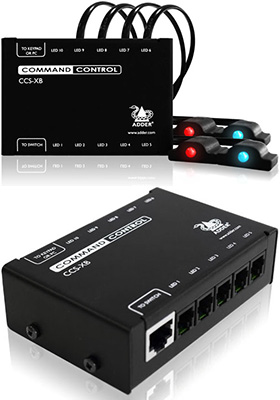 Buy this item and earn 282

Club

Points.
CCS-XB8: LED light module
designed to indicate active screen focus when used alongside FreeFlow
---
CCS-XB illumination module is an accessory which connects to the CCS-PRO8 command & control switch. It gives the user the option to have an LED indicator positioned on each screen to indentify which screen (or rather - which computer, represented by its video on the screen) is currently being controlled.
The LED's color and intensity can be controlled for each screen. A maximum of 10 illumination indicators can be supported.
CCS-XB is an add-on module for use with CCS-PRO8 command & control switch and FreeFlow. This module controls a set of LED lights which mount onto your screens. The LED's are fully configurable allowing the user to assign a specified color and intensity via the setup application.
Each LED module is pre-wired with a 10-foot cable allowing the user to route the module discreatly to the screen. The flexible cable used is of oval profile making it easier to tuck into channeling, wall gaps or any similar room features.
Each LED is housed in a sturdy molded enclosure and provided with an adhesive pad allowing the module to be fixed onto a screen bezel or other surface as required.
CCS-XB illumination module is interface powered making installation very simple. The unit provides loop-through support for additional accessories such as the 8 Way Remote Control Keypad for greater flexibility.
Each CCS-XB illumination module ships with 8 LED modules. Additional modules can be ordered (to a maximum of 10 per unit) - see listing below.