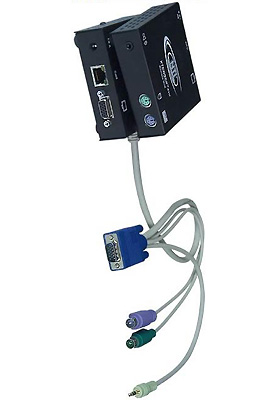 Buy this item and earn 312

Club

Points.
PS/2 KVM + Stereo Audio Extender via CAT-5: Extend Control up to 300 feet from PC or NTI Switch with No Loss of Signal.
XTENDEX« KVM extender provides local and remote KVM (PS/2 keyboard, PS/2 mouse and VGA monitor) access to a PC or a KVM switch up to 300 feet using CAT5/5e/6 UTP cable.
XTENDEX« KVM extender improved features and options include local access, and stereo audio for both the local and remote user.
XTENDEX« KVM extender is ideal for situations where a control station is located in an unsecured area or where equipment damage can occur, such as shop floors and loading docks.
Each KVM extender consists of a local unit connected to a server or the outputs of a KVM switch (with connections for local console access), and a remote unit connected to a keyboard, monitor and mouse (or the inputs of a KVM switch). The local and remote units are connected via CAT5/5e/6 UTP cable.
Features and Benefits
ò Supports two users: one local and one remote.
ò Broadcast both video and audio to a monitor and speakers located up to 300 feet from your computer.
ò Supports resolutions up to 1920 x 1440.
ò Local unit provides local KVM access.
ò Built-in surge protection.
ò Allows local and remote access to network servers.
ò Continuous manual adjustment of video signal quality.
ò Small, durable form factor increases desk and floor space.
ò Keep-alive keboard/mouse emulation for flawless operation.
ò Easy to install and use.
ò Computers remain protected from moisture, vibration, temperature extremes, electro-magnetic fields, and theft.
ò Stereo audio can be heard both locally and remotely.
ò Frequency response: 20 Hz to 20 kHz, ?1 dB.
ò Signal-to-Noise Ratio (SNR): 76 dBA.
ò Total Harmonic Distortion and Noise (THD+N): 0.017%.
ò Stereo crosstalk: -70 dB.
ò Input impedance: 10k Ohms.
ò Line level output; supports multimedia speakers.
ò Maximum I/O levels: 3.1Vp-p (line level).
ò CD quality audio output.