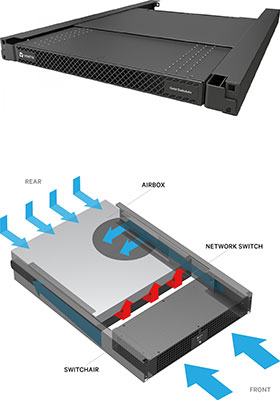 1U or 2U or 3U, active or passive airflow management devices
for network switches with air intakes in front, or in back, or on sides
---
Network switches, load balancers and routers typically sit at the top and back portion of the rack, away from the cold aisle airflow at the front of the cabinet. This configuration can be convenient for cabling purposes, but makes it difficult for cold air to flow from the front of the rack to the air intakes of the network switch equipment, allowing hot exhaust air from servers to enter the switch intake. This may lead to a decreased life expectancy of switches and increases the chances of failure over time if the problem is not handled properly.
SwitchAir helps prevent such failure by channeling cool air from the front of the rack to the switch's air intakes.
SwitchAir channels provide a dedicated path for cold aisle air to flow to the intake of the switch, either pulling (passive) or pushing (active) cool air from the front of the cabinet.
SwitchAir also creates a barrier preventing recirculation of hot exhaust air from the hot aisle from entering switch intakes.
SA1-01001NB: 1U; passive; for switches with air intakes on both sides
SA1-01001SS: 1U; passive; for switches with air intakes on one side
SA1-01002: 1U; passive; for switches with rear air intake (non-port side); medium depth adjustability
SA1-01002L: 1U; passive; for switches with rear air intake (non-port side); long depth adjustability
SA1-01002S: 1U; passive; for switches with rear air intake (non-port side); short depth adjustability
SA1-01002XLNB: 1U; passive; for switches with rear air intake (non-port side); extra-long depth adjustability
SA1-02003: 2U; passive; for switches with rear air intake (non-port side); medium depth adjustability
SA1-02003S: 2U; passive; for switches with rear air intake (non-port side); short depth adjustability
SA1-02003XS: 2U; passive; for switches with rear air intake (non-port side); extra-short depth adjustability
SA1-02005: 2U; passive; for rear rack mounted 2U switches with side air intake
SA1-03001: 3U; passive; for 3 rear rack mounted 1U switches with side air intake
SA1-09001: 9U; passive; for re-directing exhaust from the side of core switches
SA2-002: 2U; active; for 1U or 2U switches with air intake on both sides, or rear air intake (non-port side)
SA2-003: 2U; active; for 1U or 2U switches with air intake on one side
SA2-004: 2U; active; for 1U switches with air intake on front (port) side
SA2-006: 2U; active; for single-side air intake core switches