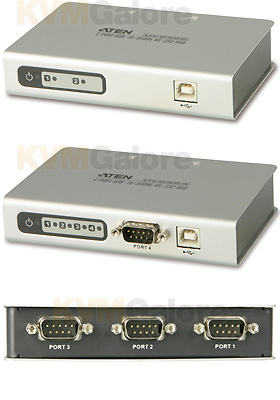 2- and 4-Port USB to Serial RS-232/422/485 Hubs with Dual Data Buffers for Upstream & Downstream Data Flow, Featuring Hot-Swap and Plug-n-Play Support.
ATEN's UC2322 and UC2324 are USB to RS-232 converters which offer the user up to 4 serial port connections through USB interface. People can connect multiple serial devices through one USB port on their system. Each serial port offers a data transfer rate up to 115.2 Kbps for high performance.
UC2322 and UC2324 provide a quick, simple, and cost-effective solution and they are ideal for various communication and automation applications.
The UC4852 and UC4854 are converters that transform the USB port of your computer into 2 or 4 asynchronous RS-422 or RS-485 serial ports. These units support RS422/485 auto detect & switch technology so when there is defined activity on the connected serial device, the converter automatically switches to the active serial port.
Compatible with both USB specification 1.1 and 2.0, these device can transfer data at speeds of up to 115.2 Kbps.