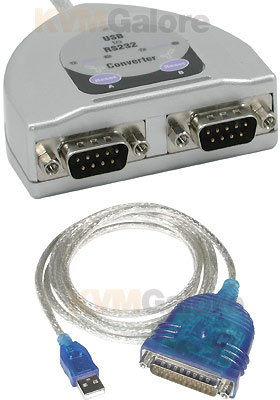 Convert 1 or 2 or 4 RS-232 Serial Devices to USB - Great for PDAs, Digital Cameras, and Many other Peripherals!
External plug-and-play solutions to add up to four RS-232 serial devices to a USB-enabled computer. Use for cell phones, PDAs, digital cameras, modems, or ISDN terminal adapters through your USB ports.
Many newer computers, particularly laptop computers and handheld devices, no longer include the legacy serial ports, and desktop computers have reduced the number of serial ports supported. Users with serial devices may find themselves unable to communicate with installed equipment.
These adapter are a great solution to connect those legacy devices to a new computer. Up to four serial ports ensure you'll have the connections you need, when you need them.