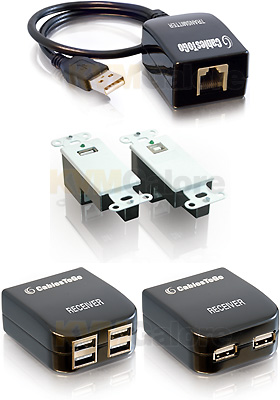 A Wallplate/Dongle (Mix & Match) Solution that Extends the Distance of a USB Signal up to 150 feet over CAT-5.
The USB SuperBooster wallplate/dongle solution allows you to conquer USB length limitations and put your USB devices where you need them.
This wallplate/dongle solution extends the distance of a USB device to a host computer up to 150 feet, enabling you to place your USB projector, camera, printer, or other USB device exactly where you want it!
The USB SuperBooster wallplate/dongle (mix & match) USB extension system is powerful yet simple, with no drivers to install or special software required. It's also compatible with any computer that supports USB.
This plug-and-play system consists of a transmitter unit and receiver unit incorporated into single gang Decora-compatible wall plates or dongles. Numerous receiver options are available so you can customize the configuration to meet your own needs. Choose from a two-port wall plate receiver, a two-port dongle receiver, or a four-port dongle receiver. These options are ideal for applications where you need more than one USB device on the receiver side or you need a dongle instead of a wall plate on the receiver side.
The transmitter/receiver pair is connected via standard Cat5, Cat5E, or Cat6 UTP cable allowing for easy in-wall installation. This makes for a clean, finished installation important for home owners, classrooms, offices and anywhere you donít want visible cables lying around. Use pre-terminated network cables or pull unterminated cable and use the included tool-less IDC RJ45 connector. The USB SuperBooster is bus-powered so no external power source is required.