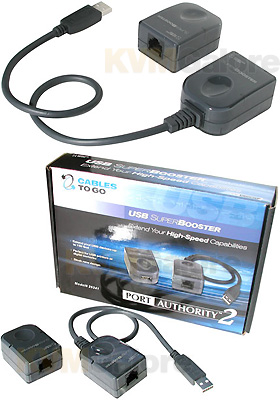 USB CAT-5 Extender
Place a USB camera, printer, or any other USB device up to 150 feet away from a host computer over CAT-5e using pocket-sized USB extenders
Read more below...

$84.99
Compare to MSRP $99.99 -
You save $15.00

$97.95
Compare to MSRP $123.99 -
You save $26.04
Pocket-Sized, it Boosts the Distance of your USB Device up to 150 Feet.
These pocket-sized devices extend the distance of a USB device to a host computer up to 150 feet so you can place your USB camera, printer, or any other USB device exactly where you want it!
The Super Booster USB Extenders are powerful yet simple. With no drivers to install or special software required, they are compatible with any computer that supports USB.
These plug-and-play devices consist of a Base Unit and a Remote Unit connected together by a standard Cat-5e network cable. Simply connect your cables to your device; then connect to your computer and USB peripheral and you're up and running.
USB Superbooster Extenders have internal DC power-conditioning circuits to maintain the proper voltage to the remote device so no external power is required for either the Base or Remote units.