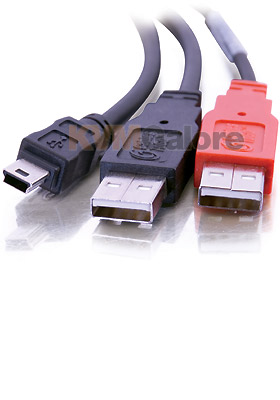 Buy this item and earn 9

Club

Points.
Increases the amount of power running to a portable hard drive from a PC or Mac.
There are times you may have an external device, such as a portable 2.5" hard drive, and a standard USB cable is not able to transfer enough power to operate the device. This problem can be easily solved by using our USB 2.0 "Y" Cables. Simply plug this cable's USB Mini-B end into the device and the two USB A ends into open USB ports on a single PC or Mac. The cable then pulls power from both USB ports, increasing the output to the external drive.
The cable features a red molded hood for the auxiliary USB A connector, allowing the user to easily distinguish between main and auxiliary power. Foil and braid shielding reduces EMI/RFI interference and a twisted-pair construction helps reduce crosstalk, ensuring high-speed, error-free data transfer. This cable is compatible with USB 1.0, 1.1, and 2.0 specifications.
Features
Connectors: 1 USB type mini-B male to 2 USB type A male
Foil and braid shield reduces EMI/RFI interference
Red molded hood for auxiliary power
USB 2.0 compliant


Note: This cable is not designed to split USB signals to multiple computers. The two USB A connectors are meant to plug into USB ports on the same computer.
• Color: Black
• Warranty: Lifetime