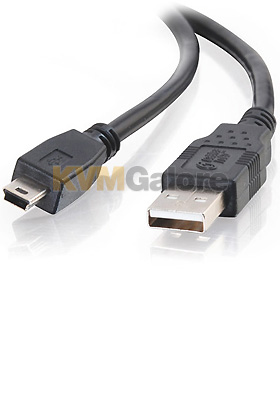 Buy this item and earn 3

Club

Points.
Connects your Mini-USB device to your USB hub, PC or Mac; 2.0 compliant. Works for most major brands including Sony, Nikon, Casio, Olympus and Pentax.
These fully rated mini-USB cables provide transfer rates up to 480Mbps, depending on USB version, and easily attach to any mini-USB device. Mini USB cables are designed to connect from your USB port on Hub, PC or Mac to your USB device, including cellular phones and PDAs.
Plus they are ideal for transferring your pictures from your digital camera to your PC or Mac.
Use this cable as a replacement for your current cable or a second cable for the office. Foil and braid shielding reduces EMI/RFI interference, and twisted-pair construction helps reduce crosstalk thus ensuring high-speed, error-free data transfer. Is compatible with USB 1.0, 1.1, and 2.0.
Connector: USB Type A Male to Type Mini B 5-pin Male (MD Type)
Transfer rates up to 480Mbps depending on USB version
Make plug and play connections with cellular phones, MP3 players, digital cameras and PDAs
PC and Mac compatible
Connect a peripheral with a 5-pin mini usb port to an USB Hub or USB port on PC/Mac
Compatible with USB specifications 1.0, 1.1, and 2.0
Compatible with the following camera models:
Canon EOS 10D SLR, EOS 300D Digital Rebel SLR, Powershot A10, Powershot A20, Powershot A30, Powershot A40, Powershot A60, Powershot A70, Powershot A80, Powershot A100, Powershot A200, Powershot A300, Powershot G3, Powershot G5, Powershot S30, Powershot S40, Powershot S45, Powershot S50, Powershot S300, Powershot S330, Powershot S400, Powershot SD10, Powershot SD100
Casio GV-10, QV-4000, QV-5700, QV-R4, QV-R40
Concord Eye-Q 3340z and Eye-Q 4060AF
Contax TVS Digital
Cool-Icam Aqua 2100
Fujifilm FinePix S5000 Zoom and S7000 Zoom
HP Photosmart 620, 635, 720, 735, 850, 935, 945
Kyocera Finecam L3V, S3L, S5, S5R, SL300R
Nikon Coolpix 2000, Coolpix SQ, D2H SLR, D100 SLR
Olympus C-50 Zoom, C-720 Ultrazoom, C-730 Ultrazoom, C-740 Ultrazoom, C-750 Ultrazoom, C-4000 Zoom, C-5000 Zoom, C-5050 Zoom, C-5060 Zoom, D-380, D-390, D-520 Zoom, D-550 Zoom, D-560 Zoom, D-565 Zoom, E-1 SLR, Stylus Digital 300, Stylus Digital 400, W-10
Panasonic Lumix DMC-FZ1, DMC-FZ10, DMC-LC5, Lumix DMC-LC33, DMC-LC40
Pentax Optio 330rs and Optio 430rs
Polaroid PDC2150, PDC2350, PDC3350
Polaroid iON 230
Ricoh RR30 Caplio
Samsung Digimax 240
Sigma SD9 SLR and SD10 SLR
Sony Cybershot DCR-IP220, DCR-PC110, DSC-F707, DSC-F717, DSC-F828, DSC-P1, DSC-P2, DSC-P5, DSC-P7, DSC-P8, DSC-P9, DSC-P10, DSC-P20, DSC-P30, DSC-P31, DSC-P32, DSC-P50, DSC-P51, DSC-P71, DSC-P72, DSC-P92, DSC-S75, DSC-S85, DSC-U10, DSC-U20, DSC-U30, DSC-U50, DSC-U60, DSC-V1
Sony Mavica CD200, CD250, CD300, CD350, CD400, CD500
Toshiba PDR-M700
• Color: Black
• Warranty: Lifetime