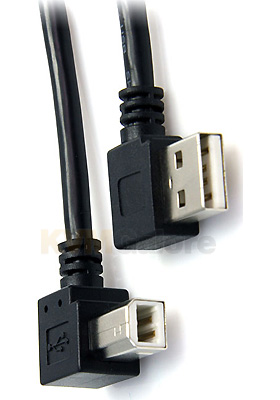 USB 2.0 Right-Angled USB Adapter Cables with Data Transfer Rates up to 480 Mbit/s.
USB 2.0 right-angled adapter cables offer a neat, space-saving solution, especially for laptop peripheral connections.
Featuring one right-angled USB 'A' type connector and one right-angled USB 'B' or 'Micro B' type connector, these adapter cables allow the desktop or laptop computer and the connected USB peripheral to be positioned nearly flush against a wall or other surface, by eliminating the space that would typically be required to accommodate a 'straight' connection from the cable into the USB port or peripheral device.