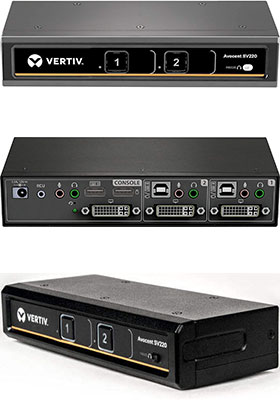 Buy this item and earn 363

Club

Points.
2-port DVI KVM switch
supporting DVI-I (including HDMI and VGA by use of adapters), audio, copy and paste between sources

Avocent SV220 desktop KVM switch provides streamlined connectivity and control of today's multimedia desktops. Avocent SV220 KVM switch supports two different systems or networks. When employees need access to PCs, corporate ERP and CRM systems, mail servers or Ultra-HD multimedia systems — all of these and more are accessible through Avocent SV220 KVM switch.
Simply by pushing a button, users gain instant access to multiple computers, all through a single monitor, keyboard and mouse.
Features and Benefits
• Mouse and keyboard switching via emulation assures zero delay when switching between systems
• Easily switch audio independently of KVM
• DVI-I (including HDMI and VGA by use of adapters) video support for 4K @ 30Hz resolution
• Independent audio switching lets users freeze audio while simultaneously working on a different system
• Copy and paste data files and text between systems
• Managed copy and paste of files and text between sources allows content to be copied from one system to another. The user simply copies the content in one system, pushes a button to switch to another system and pastes the content into the second system. Copy and paste can be managed with built-in controls to specify what can be copied, such as allowing a user to copy numbers only
• Cables are not included
Required Cables (per port)
1x DVI KVM Cable
or
1x DVI, male-male
1x USB, Type-A to Type-B
2x 3.5mm audio cables, male-male