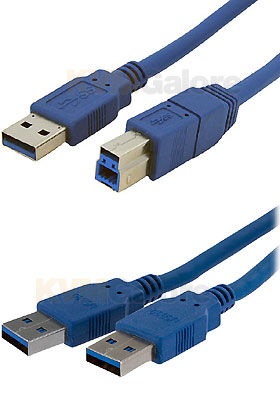 SuperSpeed USB 3.0 Cables.
StarTech.com's SuperSpeed USB 3.0 cables offer a durable, high quality connection that harnesses the full capability of the USB 3.0 standard.
Designed for next-generation SuperSpeed USB device connections, these USB 3.0 cables provide connectivity between a PC and hub or other USB A devices, delivering a throughput of up to 4.8Gbps when used with a USB 3.0 host and device - an astounding 10x the capability of USB 2.0 (480Mbps).
The USB 3.0 cables feature high quality Shielded Twisted Pair (STP) construction, helping to prevent electro-magnetic interference and ensuring reliable data communication.
Like all StarTech.com cables, the USB 3.0 cables are backed by a Lifetime Warranty, providing guaranteed quality and reliability.