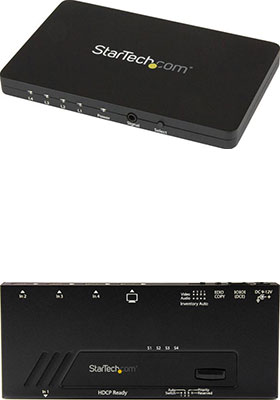 Switch between two or four HDMI sources on a single HDMI display
with 1080p or 4K video resolution; optional fast switching and MHL support
---
Create a powerful visual experience with the ability to switch between two or four 4K video sources seamlessly. These 2- and 4-port HDMI® switches let you share a monitor, projector or TV with two or four different HDMI enabled video sources, and switch between them with minimal disruption.
Impressive image quality with 4K support
The video switches maintain 4K Ultra-HD picture quality while switching between content from HDMI source devices - including Blu-ray™ players or DVD players, computer systems, video game consoles, digital cable and satellite boxes and A/V receivers.
4K support ensures a higher level of image clarity and visibility, delivering four times the resolution of 1080p - 8.29 million pixels versus 2.07 million pixels. It provides a more engaging visual experience for audiences in a wide range of venues including conference centers and boardrooms, home theaters, and commercial settings. With its exceptional resolution and image quality, it's also ideal for bringing your digital signage to life.
Hassle-free Operation with Auto Switching
These switches ensure effortless operation with automatic switching that detects and selects a newly connected device. Automatic switching encourages on-the-fly collaboration among colleagues, by making it easy to share your projector between multiple source devices in a boardroom or classroom environment. These switches also support manual operation using the included IR remote control, or the built-in front panel toggle switch directly on the device.