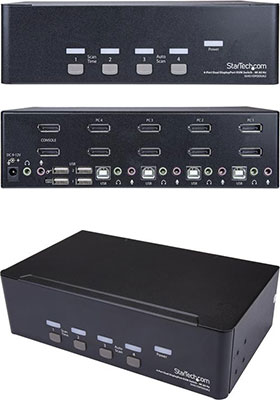 Buy this item and earn 648

Club

Points.
SV431DPDDUA2: Access four dual-monitor DisplayPort 4K PCs or Macs from a single console
with audio support and USB 2.0 hub for peripheral sharing
---
• Maximum productivity with dual-display, multi-computer access
• Full multimedia control with separate 3.5 mm auxiliary support
• Astonishing picture quality with support for Ultra-HD 4K resolutions at 60Hz
• Share your USB peripheral devices with built-in 2-port USB hub
• Easily access computers with hotkey and push-button switching
This dual DisplayPort KVM switch combines next-generation digital display standards with seamless KVM control. The 4-port KVM switch features audio and USB peripheral support along with dual-display capability, which makes it easy to create a multimedia workstation that can switch between four dual-head or twin DisplayPort systems.
Maximize productivity with dual video
With support for two DisplayPort video inputs and four different computers, this KVM switch helps maximize productivity.You can access multiple computers, giving you the freedom to multitask and increase your productivity. Each of the DisplayPort ports supports resolutions up to 4K for maximum screen viewing space.
You can also use low-cost adapters to achieve a dual-monitor setup using your computer's secondary HDMI or DVI port.
Astonishing picture quality
The dual DisplayPort KVM switch supports resolutions up to Ultra-HD 4K at 60Hz, and can drive two large DisplayPort displays with ease. This makes it the ideal solution for creating workstations where high-quality imaging is critical, such as for graphic design.
Complete multimedia control
The KVM switch features auxiliary 3.5 mm audio ports that let you share independent analog audio, from each of your connected computers, with your desktop speaker set. With independent audio support, along with dual 4K DisplayPort video, you get full multimedia control between different computers which makes this the perfect KVM switch for creative professional applications such as video and sound design or editing.
Convenient peripheral sharing
This KVM switch offers a built-in 2-port USB hub that's separate from your HID keyboard and mouse. This enables you to share USB peripherals between each connected computer and avoid the expense of separate equipment. The USB hub automatically switches your connected USB devices to the selected computer, saving you the hassle and cost of outfitting each of your computers with their own peripherals.
Applications
• Control four computers, each with dual-head video cards, from a single workstation
• Work with multimedia applications such as 4K video and photo editing
• Operate multiple computers in manufacturing lines
• Install in your server room, for multi-computer access
• Perform high-resolution tasks such as graphic design or CAD drawing
Included in Package
1x KVM switch
1x Universal power adapter (NA/JP, EU, UK, ANZ)
4x Rubber feet
1x Instruction manual
Cables not included
Required Cables (per port)
2x DisplayPort, male-male
1x USB, Type-A to Type-B
2x Audio, 3.5mm, male-male