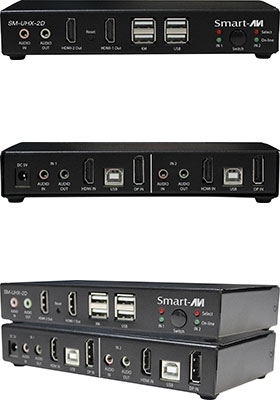 Buy this item and earn 246

Club

Points.
Dual-head 2-port DisplayPort/HDMI KVM switch
with USB 2.0 sharing, to access and control two DisplayPort/HDMI computers from a single USB keyboard/mouse and two HDMI monitors
---
SM-UHX-2D is a multi-platform KVM switch capable of managing two computers through two monitors, one USB keyboard/mouse, and a set of speakers, while sharing USB devices like printers, memory devices, scanners, etc.
The video input connectors on the unit are 1x DisplayPort and 1x HDMI per computer, while the output connectors for the two console screens are HDMI.
SM-UHX-2D supports resolutions of up to 4K Ultra-HD (3840x2160 @ 60 Hz).
SM-UHX-2D KVM switch allows the control of two computers via a single console set of USB keyboard/mouse/hub, microphone, speaker and 2x HDMI displays. SM-UHX-2D KVM switch has a built-in USB 2.0 compliant hub that allows sharing of the USB peripherals, along with 3.5mm mini stereo ports for speakers and microphone. The switching between the connected computers is executed by using the front panel or keyboard hotkey commands. Product set-up is quick and simple with no software to install, so you're ready to go right out of the box.
Flexible Sharing
SM-UHX-2D supports independent simultaneous device selection. It enables the use of a USB keyboard and mouse on one computer while other USB peripherals such as speakers, scanners and printers are connected to the other computer source. SM-UHX-2D maintains the ability to switch all connected devices to any one of the computer sources as with
any other KVM switch in the market.
Features and Benefits
• Control two computers via one USB console
• Supports computers with resolution up to 4K Ultra-HD (3840x2160 @ 60Hz)
• HDMI 2.0
• DisplayPort 1.2 compliant
• HDCP 2.2 compliant
• Flexible and easy switching
• Computers and devices can be unplugged and re-plugged without having to shut down the KVM switch
• Vonnected computers' status is clearly indicated via LEDs
• Supports all major operating systems like Windows, Mac, Linux, Sun, Unix, DOS, etc.
• Supports USB keyboard and mouse
• Supports additional USB 2.0 devices like printers, scanners, web cameras and more
• Stereo audio support
• Front panel push-button for manual port selection
• Hot-key commands for quick port selection
Package Includes
• SM-UHX-2D switch
• Power adapter [PS5VD2A]
• KVM cables are not included
Required cables (per port)
1x HDMI cable, male-male
1x DisplayPort cable, male-male
1x USB Type-A to Type-B cable, male-male
2x 3.5 mm audio cables, male-male