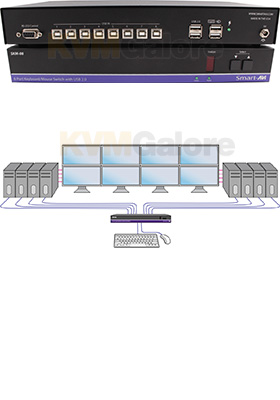 SKM Keyboard/Mouse Switches
4- and 8-port KM (keyboard/mouse) switches w/ USB 2.0 peripheral sharing, mouse-cursor switching and support for multiple screens per computer
Read more below...
4- and 8-port KM (keyboard/mouse) switches with USB 2.0 peripheral sharing
SKM keyboard/mouse switches enable users to manage and switch KM (Keyboard and Mouse) functions of four or eight connected computers, including multi-head computers.
With support of multiple displays per computer, users can create the ultimate KM environment. This can be a superior solution to operating a KVM switch, especially among multi-head computers. Users can simply connect the monitors directly to the computers and use the SKM keyboard/mouse switches to switch between computers for KM operation.
SKM keyboard/mouse switches are completely driverless, requiring no software or updates (although the device has the capability for firmware updates). They are compatible with virtually any PC and all major operating systems without the need for software downloads, and it supports all USB 2.0 devices.
With full USB keyboard and mouse emulation, SKM keyboard/mouse switches deliver the utmost in user-friendly operation. Furthermore, the devicees enable users to control KM functions on one computer while maintaining the connection of other USB peripheral devices on another connected computer simultaneously, without interruption for improved workflow.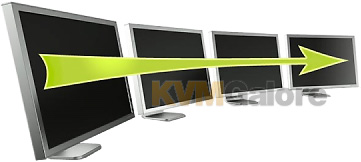 Users can switch inputs via the buttons on the front panel or keyboard hot keys. SKM keyboard/mouse switches are the first KM devices on the market to offer RS-232 control. Users can also switch using a double click of a mouse's center button (known as Mouse Gesture Switching). In single-head mode, users can switch computers with Smart-AVI's new PASS (Progressive Automatic Screen Switching) technology, which enables the device to automatically switch computers based on where the user's mouse goes. It's a quick, efficient and intuitive way to provide smooth switching that corresponds with a user's cursor movement.
SKM keyboard/mouse switches allow for numerous displays to be used with their four or eight connected computers. This means multiple multi-head computers can be managed with no drivers required. Users can connect up to eight 16-head computers, for example, or four/eight quad-head computers, and so on. Although PASS is not available when using multi-head computer configurations, users can easily switch using the device's other supported switching protocols, including Mouse Gesture Switching.
SKM-04 - 4-port KM (keyboatd/mouse) switch
SKM-08 - 8-port KM (keyboatd/mouse) switch