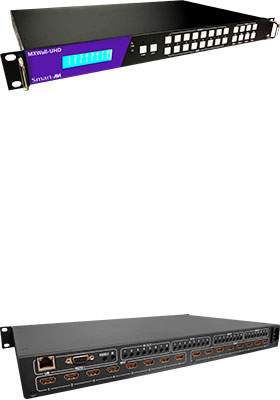 Buy this item and earn 5,999

Club

Points.
8x8 Ultra-HD (4K/60Hz) HDMI matrix, scaleable video wall processor
with RS-232 command capabilities and a Windows GUI
---
Combining full switching capabilities of a matrix and the versatile high definition capabilities of a converter-scaler, SmartAVI's MXWall-UHD is an ideal all-in-one video wall processing solution. Specifically designed for demanding video display applications, MXWall-UHD lets users effortlessly manage and route 8 HDMI video sources to 8 Ultra-HD displays in real time with stellar picture resolutions up to 4K.
MXWall-UHD features multi-screen configuration options and full scaling capabilities across 8 screens. Completely compatible with HDCP and HDMI 2.0 connectors, MXWall-UHD reliably transmits Ultra-HD content across fully scalable display configurations in real-time for 24/7 uninterrupted use and HD output.
User-Friendly, Flexible, Powerful
Plug-and-play ready, MXWall-UHD requires absolutely no technical skill to install and operate. Optimized for media and HDMI device compatibility, MXWall-UHD offers both ease and freedom to craft video wall displays in any capacity.
Perfect for mid-sized video-wall and digital signage arrangements, MXWall-UHD is terrific for public displays, entertainment venues and transportation hubs like airports. MXWall-UHD's reliability and scalability also make it an essential addition to controlrooms, command centers, and other mission-critical environments: no matter your video wall needs, SmartAVI's MXWall-UHD delivers them to amazing effect!

Unlimited Configurations
It is easy to create different configurations or modes that are simple to navigate through with MXWall-UHD. There are endless possibilities. Creating and switching between display modes is simple. Front panel buttons, on-screen-display, RS-232, and TCP/IP can be used to switch between modes at will. MXWall-UHD presents nearly unlimited configuration possibilities.
• Individual mode: Users can route individual input images to each display individually.

• Video-Wall mode: Users can stretch an input image across 8 HD screens with screen resolution up to 4K/60Hz.
• Custom displays: User defined custom displays can be created with supplied software. Users can populate individual screens with multiple inputs. Add any of the input signals to play along side others within a single display.
MXWall Manager Software
MXWall-UHD also comes with SmartAVI's intutive MXWall manager software, which allows users to create amazing video wall displays in minutes. Its click-and-drag operation and simple layout ensure managing video walls is easy and effective every time!

• Easy to Use: The MXWall manager software features a streamlined layout that keeps things simple and clear. SmartAVI's intuitive menus and settings interface ensure set-ups always are easy and stress-free. Choose from settings like aspect-ratio, rows, columns, video sources, and more! Adjust resolutions, scaling, and active monitors on the fly. Not happy with your current configuration? Just clear the workspace and start fresh: it's that simple!
• Fully Customizable: Take your pick of any of our versatile display modes. Select any screen and input the source you would prefer. Even multiple video sources can share a single screen with INDIVIDUAL and QUAD display modes. The possibilities are as endless as your creative potential!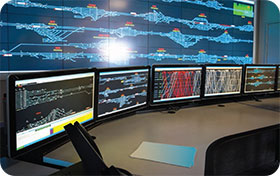 Real World Applications
• Command Center: Users need to show dozens of video sources on multi-screen displays, while keeping the option of displaying one or a few of those sources over multiple displays instantly. MXWall-UHD offers this unique flexibility, allowing users to reconfigure the screen set up at a moment's notice.
• Security Control Room: Users provide security surveillence by monitoring lots of video feeds at once. The highquality resolution and full HD scaling on MXWall-UHD is absolutely critical when users need to review all of the details that have been captured on video.
• Public Safety and Utilities: Public safety departments and infrastructure systems in cities rely on up-to-date information that's accessible 24/7. When something goes wrong on the grid, officials need to be fully informed about what's going on, and MXWall-UHD is the ideal tool to stay on top of any situation.
Features and Benefits
• Supports Ultra-HD 4K/60Hz
• HDMI 2.0 input
• Seamless switching
• Control via IP, RS-232 and the front panel
• Windows GUI allows unlimited customization
• Can be configured as 2x4, 4x2, 1x8 and more
• Integrated scaler can convert any resolution to Ultra-HD
• Complete hardware solution
Package Content
1x MXWall-UHD
1x Power Cord (CCPWR06)