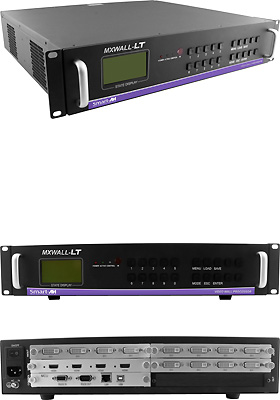 4- or 8-input, 8- or 12-output HDMI video-wall and digital-signage matrix switches
with 1080p Full HD resolution output, integrated converter & scaler, flexible creative configuration modes and user friendly control software!
---
MXWall-LT is a video wall processor and matrix switch with 4 or 8 HDMI inputs and 12 DVI outputs. Compact, plug-and-play, and excellent for mid-sized video wall displays between 8-12 screens with resolutions up to 1080p (1920x1080 @ 60Hz) Full HD.
Combining full switching capabilities of a matrix and the versatile high definition capabilities of a converter-scaler, SmartAVI's MXWall-LT is an ideal all-in-one video wall processing solution. Specifically designed for demanding video display applications, MXWall-LT lets users effortlessly manage and route 4 or 8 HDMI video sources to 8 or 12 HD displays in real time and stellar picture resolutions up to 1080p.
MXWall-LT features multi-screen configurations options and full scaling capabilities across a up to 12 screens. Completely compatible with HDCP and HDMI 1.4 connectors, MXWall-LT reliably transmits HD content across fully scalable display configurations in real-time for 24/7 uninterrupted use and HD output.
Its compact design and powerful processing power makes MXWall-LT the perfect solution for any video wall installation. Plug-and-play, the LT is immediately ready for use as soon as it is connected to an AV set-up: no additional drivers or installers required. Better still, its exceptional hardware makes for stunning video wall displays in environments like retail spaces, educational facilities, conference rooms, command centers, event halls, entertainment venues, airports, and more!