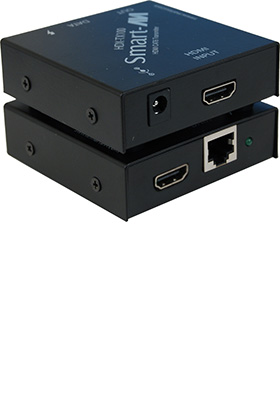 Buy this item and earn 224

Club

Points.
HDX-100S: HDMI extender over a single CAT-6 STP cable with local video output
HDX-100 extends any HDMI signal up to 150 Feet to display monitor and one local screen using HDMI-to-CAT-6 STP cabling while retaining high-definition images at 1080p up to 1920 x 1200 resolution.
HDX-100 is an innovative solution to extending any HDMI signal – be it a gaming console, Blueray player, computer, etc. – over inexpensive CAT-6 STP cabling up to 150 feet away to one remote display and one local screen for real-time monitoring of content.
This is the perfect solution for broadcasting high-definition media easily and inexpensively from a source to display screen for customers to view while keeping the CPU in a remote, secure location such as a computer room or back office of a business.
Utilizing HDX-100, you can monitor what's being shown to your customers in real-time via a local display as you retain full control over the CPU or HDMI source, accessible only by key personnel.
HDX-100 is a compact, dynamic unit that is small and easily integrated into a digital display network such as in a retail store or bar/lounge. The transmitter and receiver units are extremely compact, which makes inclusion into your infrastructure very simple and handy.
Applications
• Retail Locations
• Bars/Lounges
• Showroom Floors
• Convention Booths
• Hotel/Resort/Check-in Counters
• Corporate/Educational Demonstrations
• Hoses of Worship
• Medical Facilities
• Recording/Editing Studios
Features and Benefits
• Compact Transmitter/Receiver Units
• Local HDMI Output
• Perfect Image Quality at all Resolutions (1920x1200, 480p, 720i, 720p, 1080i, 1080p)
• Video Resolutions up to 1920x1200 at 60Hz (1280 x 1024 at 75Hz) on all Distances to the Maximum Limit
• Bandwidth to 1.64Gps
• Automatic DDC Learning from Local Monitor
• Unit Operates Regardless of Local Monitor Connectivity
• Distances up to 150 Feet using CAT-6 STP Cabling
• Compatible with all Operating Systems
• Plug-and-Play - No Software Required
Package Includes
• HDX-100 Transmitter [HDX-TX100]
• HDX-100 Receiver [HDX-RX100]
• 2 x Power supplies [PS5VD1A]