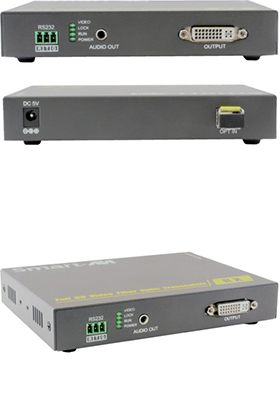 Buy this item and earn 1,049

Club

Points.
FDX-AVPRO: Extends DVI-D video+audio signals up to 6.2 miles
via a single fiber-optic cable
---
Ideal for long-range, lightning fast HD signal transmission and real-time AV extension, FDX-AVPRO is the premiere fiber optic extender solution in our catalogue. Built with speed, quality, and security in mind, FDX-AVPRO sends HD DVI-D video and stereo audio signals across distances as vast as 6.2 miles without interference or risk of interception.
FDX-AVPRO features excellent video resolutions up to 1080p (1920x1080 @ 60Hz), stereo audio support, automatic system learning, auto-optimization, and optional RS-232 support.
Send HD video content across vast distances with complete security: fiber optic extension is prized in government and the private sector for its speed, safety, and efficiency. Fiber optic connections are virtually impenetrable, so malicious signal tapping is never an issue.
Powerful and easy-to-use, FDX-AVPRO keeps long-distance transmission intimate and engaged at any range.
Why Fiber Optic?
Smart-AVI has created a full line of fiber optic extender products, understanding that this technology is superior to traditional cabling.
• Fiber optic cables are capable of transmitting over very long distances with no signal loss.
• Fiber optic cables are immune to electromagnetic interference. In situations where there is considerable interference, fiber optic cabling is the only solution.
• Fiber optic cables are much more secure because they cannot be easily tapped. For this reason, military and law enforcement
agencies use fiber optic cables for the transmission of sensitive data.
• Fiber optic cables are relatively inexpensive and small enough to be routed through small spaces.
Applications
• Corporate or Educational Presentations
• Information Terminals/Kiosks
• Airport Installations (Air Traffic Control/Passenger Information)
• Sports Arenas or Public Facilities
• Restaurants and Lounges
• Resorts and Casinos
• Houses of Worship
• Theme Park Design
• Civic Centers
• Shopping Malls
• Concerts or any Large-Scale Multimedia Venue
• Mass-Transit Vehicles
• Convention Centers
Features and Benefits
• Top signal quality at maximum extension (6.2 miles)
• Superior image quality at all resolutions
• Video resolutions up to 1080p (1920x1080 @ 60Hz)
• Highly compatible, automatic learning
• Supports DVI-D
• Optional RS-232 control
• Plug-and-play ready
• Secure design and casing
Package Includes
(1) FDX-AVPRO Transmitter
(1) FDX-AVPRO Receiver
(2) Power Adapters [PS12VDC1A]