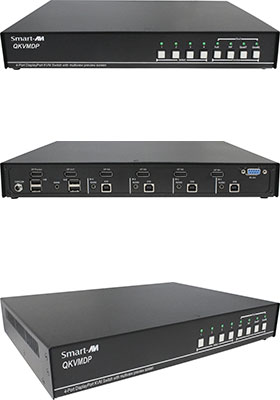 Quadruple-view 4-port HDMI, DisplayPort and DVI multi-view KVM switches
supporting two screens (one of which is a dedicated multiview preview screen to view all 4 video sources simultaneously) with USB 2.0 peripheral sharing
---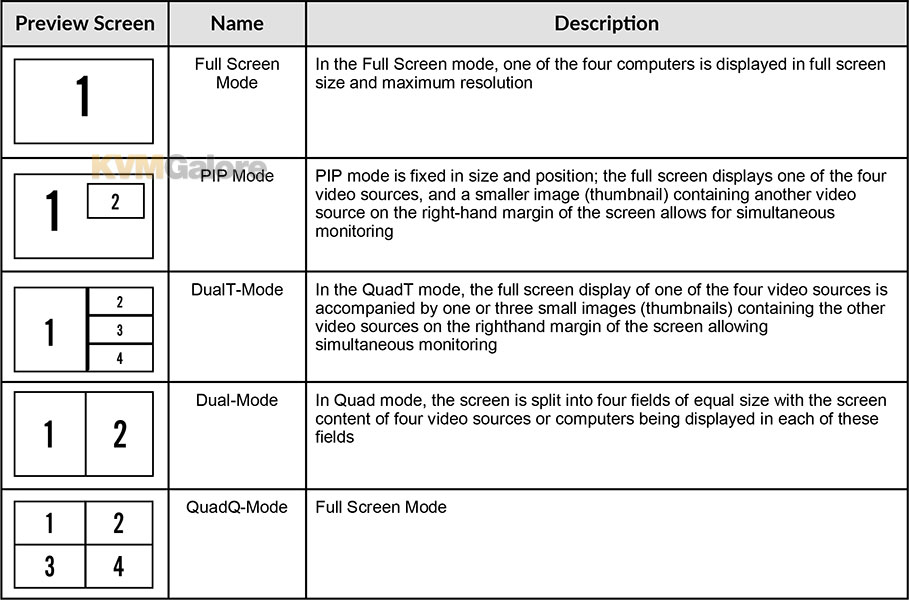 QKVM-series multi-viewer KVM switches allow users to view up to four different digital video sources on one display simultaneously. QKVM-series also support USB keyboard and mouse functionality, allowing the user to access all four displays from one KVM console.
QKVM-series feature two monitor outputs. One is the standard KVM switch video output that displays the selected computer to be controlled via the USB keyboard/mouse. The other is a preview screen which allows you to view up to all four video inputs connected to the unit.
Connections to video sources are managed via HDMI or DisplayPort or DVI connectors. Advanced viewing options on the Preview Screen include dual mode, quad-mode, full-screen mode and PIP (picture in picture) mode.
QKVM-series can be used in many applications that require the real-time monitoring of multiple computers. They are a perfect solution in situations where a user needs to monitor several computers at the same time such as in air traffic control environments, where several computers need to be monitored for the progress of flights and flight information. QKVM-series is perfect for multitasking, allowing the user to run tasks on each computer and monitor their progress without having to switch back and forth between them.
Simple Operation
Switching between the display modes is simple: use the buttons on the front panel, the programmable keyboard hotkeys, RS-232 commands or use the built-in on screen display (OSD). The OSD is accessible at the press of a button, and features controls for all of the QKVM's functions. QKVM-series is easily programmable through the setup function of the OSD.
QKVM4K: HDMI; 4K
QKVMDP: DisplayPort; 4K
QKVMPro: DVI-D; 1920x1200