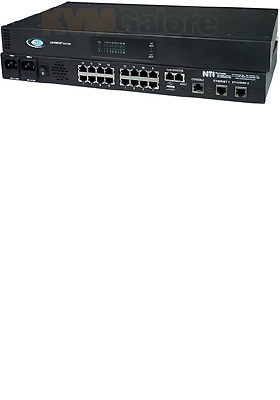 SSH Console Serial Switch with Environmental Monitoring -- Securely Control up to 32 RS232 Devices via the Internet.
SERIMUX® Secure SSH Console Serial Switch delivers secure management of up to 32 serial devices via the internet, TCP/IP network, or dial-up modem connections. It combines the advanced security of Secure Shell v2 with unlimited access to remote network management.
• Operates on an embedded Linux Kernel.
• Connect up to 32 devices with different baud rates, parity, and character length. Each switch also has one RJ45 connector for a local terminal.
• Eliminates the need to connect each device to an ASCII terminal or PC.
• Provides out-of-band access to network devices (servers, routers, network switches, and any other network devices allowing console operation using RS232).
• Connects to console serial ports using standard CAT5/5e/6 cables and cable adapters.
• Dual Ethernet and optional dual power provide redundant connectivity and power.
• USB port provides expanded logging storage, configuration export and additional functionality.
• Dual power option creates a redundant power system protecting the console switch from any power failure issues.
• High quality, rugged steel construction with durable powder coat finish.
• Gain access to servers without interrupting service to end-users; maintain optimal up-time.
• Monitor environmental conditions.
• Power cycle without halting SUN host computer.
• Powerful diagnostic and event management features (data capture, notification and scripting) assist in the quick location of the source of equipment failures and minimize downtime.
• Enhanced security features to protect the system-Secure Shell (SSH v2), individual port authentication, HTTPS.
• Switching is simplified with programmable device names and menu-driven device selection.
• Firmware upgradeable "in-field" through console port, Ethernet, or an attached USB Flash drive.
• 1RU case is standard. Includes rack mounting kit.