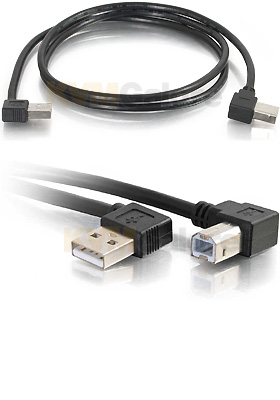 Connect your USB Device to the USB Port on your USB Hub, PC or Mac with Convenient Right-Angle Connectors and USB 2.0 Speed.
Just plug-and-play for keyboards, mice, modems, printers, and other USB peripherals. These cables provide a transfer rate up to 480 Mbps depending upon the peripheral's USB version, and easily attach to any USB device.
Foil and braid shielding reduces EMI/RFI interference and twisted pair construction helps reduce crosstalk thus ensuring high-speed, error-free data transfer.
Their small right angle form factor is ideal for today's compact portable devices while easily transferring data or charging your devices.