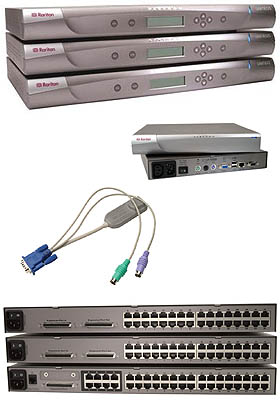 Multi-user, high-density in-band KVM over long-distance CAT-5 switches
Paragon® II defines the next generation of KVM (keyboard, video, mouse) appliance switches. It builds upon the proven analog KVM switching technologies of Raritan's original Paragon -- the industry's first enterprise-class, and most widely deployed KVM solution.
Paragon® II is an enterprise-class CAT-5 analog KVM solution that provides up to 64-users with secure, real-time access and control of thousands of servers and serial devices. Its secure KVM switch technology features the industry's best video quality with resolutions as high as 1920x1440 at distances of up to 1,000 feet, making it the perfect solution for government, broadcast, production and post-production facilities.
Paragon® II is ideal for enterprise data centers due to its configuration flexibility and broad compatibility, supporting leading platforms from HP, Dell, IBM, Cisco, and Oracle.
With its cost and space saving architecture, Paragon® II provides advanced features to help IT administrators access and control their enterprise equipment at anytime from anywhere.
Unlimited Server Access and Intuitive Management
• Server control from anywhere – provides BIOS-level access and full keyboard and mouse control of servers so that administrators – located anywhere inside or outside the data center – can control and maintain thousands of servers as if they were actually at the rack.
• Optional Internet connectivity – provides direct out-of-band connections to servers for staff up to 1,000 feet away and Internet-based remote access for further distances. Plus, Paragon II has a back-up built-in modem.
• Cross-Platform support – Seamless access to all operating systems, platforms and connections: Linux, Windows® NT, UNIX®, Novell, Sun®, IBM® RS/6000 and pSeries™, HP9000, Alpha™, SGI, ASCII/serial/USB or PS/2
• Plug-and-play appliance – Simple auto-configure installation with no need for additional software.
• Paragon Manager software – GUI software simplifies management and monitoring of the data center. Paragon Manager captures and saves all systems events for auditing purposes, pushes firmware upgrades via the network and maintains system profiles.
• Integrated power management – provides a single consolidated view of all connected devices (including servers, remote alarm monitoring, HVAC, and other critical data equipment), sets security permissions on a per outlet basis, recycles power to multi-power supply servers and gets status information from every connected strip.
• Grow as you go – Easily add, relocate and hot swap components without disruption as your data center needs change.
• Enterprise solution – May be deployed individually or integrated with any of Raritan's enterprise-wide data center solutions including CommandCenter.
High Performance
• High availability – distributed architecture eliminates any single point of failure ensuring continuous accessibility and improved uptime.
• Non-blocked access – Up to 64 simultaneous users can access servers connected to Paragon II.
• Tight mouse synchronization - reduces latency - the tedious wait for key strokes and mouse movements to catch up with commands.
• High-quality video – innovative technology ensures that high-quality video is maintained at distances of up to 1,000 feet; ideal for use in rigorous environments such as Network Operations Centers.
Increase ROI – Lower TCO
• Stackable expansion units – Up to 128 devices can be attached to a Paragon II switch, enabling 50 percent more servers/devices to be managed from a single unit.
• Reduced cabling costs – stacking architecture simplifies cabling between tiers by replacing multiple pass-through cables with a single expansion cable – saving 32 cables per switch. Standard UTP cabling is supported.
• Reduces expensive downtime – by providing IT personnel, no matter where the location, emergency access to servers.
• Backward compatibility – compatible with existing Paragon and other Raritan equipment.
• Small form factors – 1U or 2U stackable form factors save expensive rack space and minimize HVAC provisioning needs.